Here in this article you will find the information to reach expert level when it comes to the knowledge about progressive lenses. The information you will find on this article here differs from my website because it is not written for better understanding for the end consumer.
In some cases, you will find a lot of formulas and really in-depth information. So if you are as interested as I am in progressive lenses let us dive in and I will give you some information about those websites.
This website hosts a lot of information about the memories and calculus of progressive lenses. The man behind tremendous information is Werner Köppen. He worked at Rodenstock and Essilor.
During his time at Rodenstock, he was heavily involved in the development of the first progressive lens design at Rodenstock. In addition to that, he gives information about the development of the Varilux Comfort design during his time at Essilor.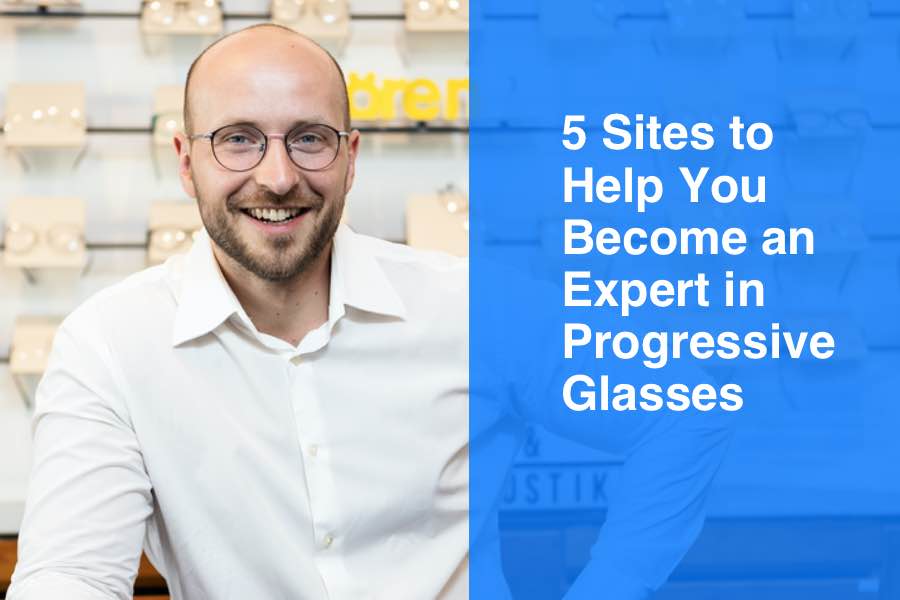 Most of the websites will be not easy to digest. I recommend starting with his publications and then afterward you can dive deeper into the calculus of the progressive lens designs.
Furthermore, you can get information about the lens market in general and how Essilor got to the position it is today. This website is pure gold to me and I can not thank Werner Köppen enough for his work. It really made things easier to digest for me with my patent in this space.
My favorite part of this site is found under "Progressive Lens Design Calculation". Here you can find information about how the surface of progressive lenses gets calculated and understand the principles of them in-depth. This part covers basic notions in differential geometry and goes on with the Minkwitz Theorem and the Minkwitz Rüssel.
I wish these topics would be covered in this detailedness in my master optician's school. From time to time I come back to this website and I am always amazed by the content.
The website Pointsdevue is great for getting all kinds of information about the optical industry and understanding things in the progressive lens market. It is driven by Essilor and you can expect great information there but of course just about the information from the industry giant.
If you are an end consumer you should always have in mind that the information of manufacturers about an improvement lets say the size of the field of view over your current lenses compared to new ones does not have to match with the advertised claims.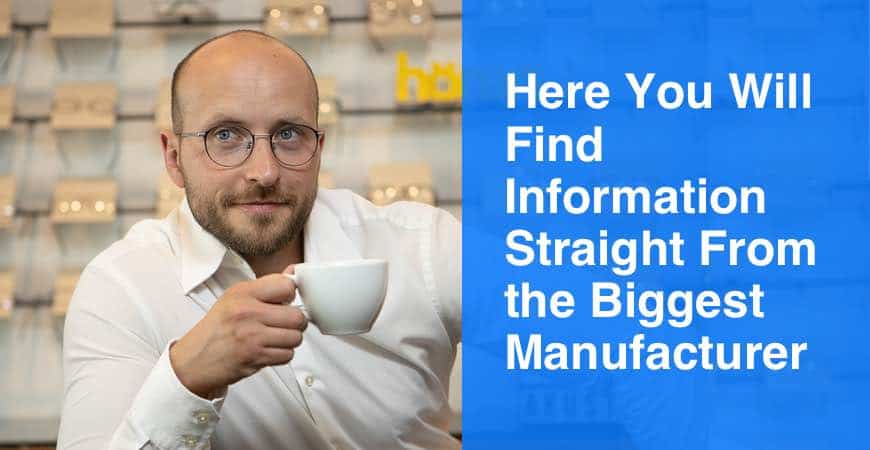 So if you read something like "revolution" up to 40% bigger and so on those improvements are true for special test settings. If you fall in a special category and you would benefit from those tweaks you might get a bump when it comes to a bigger field of view. But in most cases, this will not happen. So always take the information about progressive lenses with a grain of salt.
The reason therefor is when you buy progressive lenses in a lot of cases your eyes need more reading power also known as Add value. So if you buy your new lenses you will get lenses with less clear width when it comes to the field of view. Because if the Add value is gets increased the zones for clear vision gets smaller.
I just wanted to set your expectations right.
This website was made by Darryl Meister who influenced so many people in the industry. His articles and programs definitely made me a better optician and gave me an understanding that schooling just could not get live up to.
The articles on the website are summed up as courses. The material is just perfectly put together. The software on the site is also great. But beware where you install the software. Because the website does not receive updates anymore due to the early passing of Darryl Meister. In my case, the software ran but it did interfere with other software.
Darryl Meister was an outstanding Master optician and he heavily influenced my thoughts about ophthalmic lenses in general.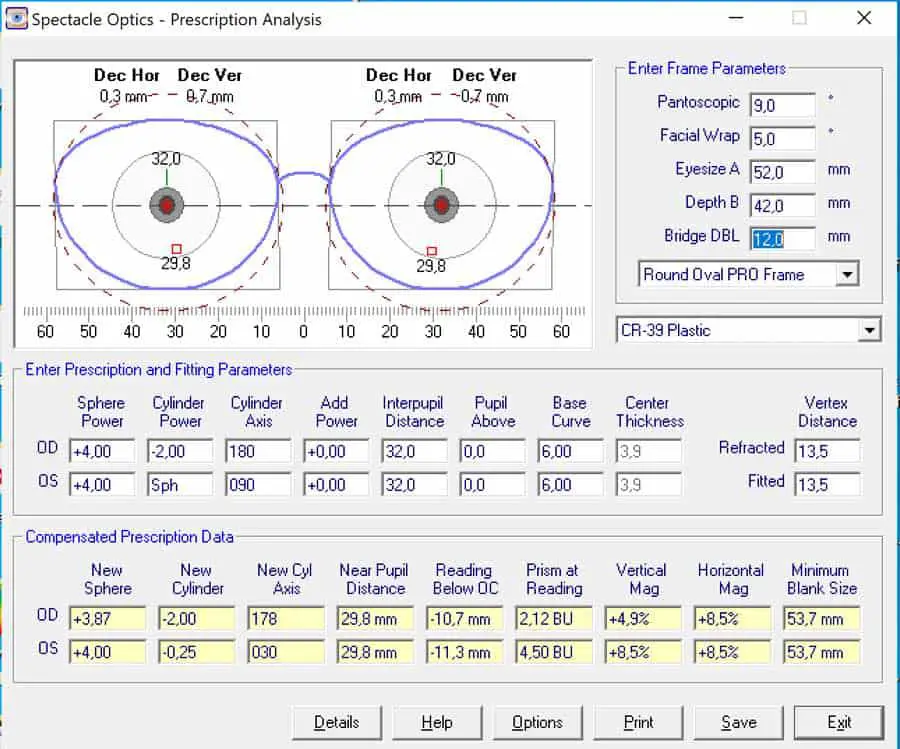 In this picture above you can see the outstanding software you can download for free at OptiCampus. You can play with so many parameters and see how they influence the prescription.
But not only can you see how the numbers change. You can also see how how the surface astigmatism changes depending on what lens design you choose. This is also a great to to begin with to show your client what he or she can expect.
Playing with this software alone is such a valuable lesson if you want to reach expertise in the field of progressive lenses. In addition to the great information, you can get while playing with the progressive lens part of this program I also highly recommend checking out the in-depth spectral analysis.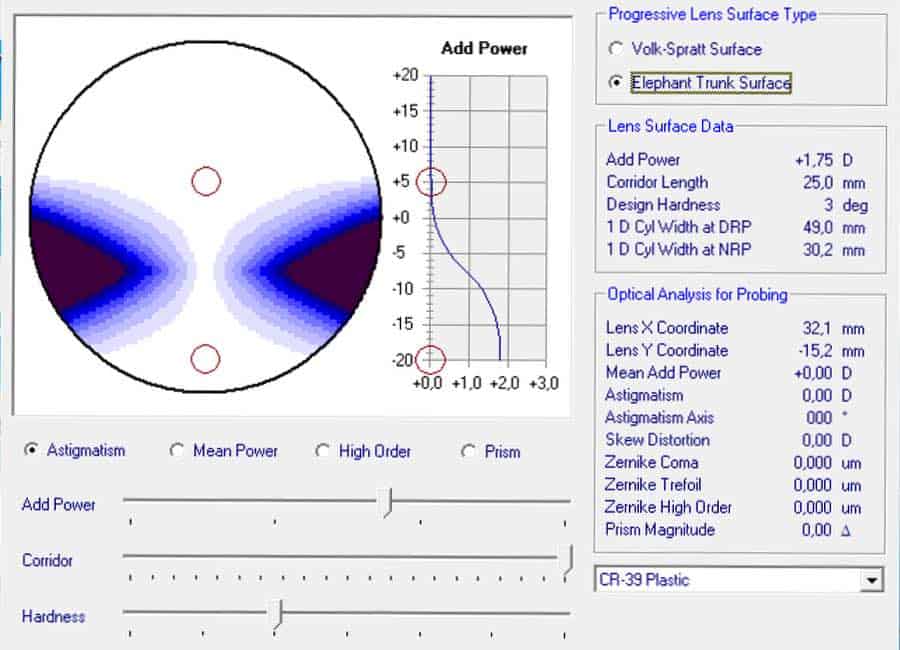 This way you can further dive in into the different possibilities when it comes to choosing the perfect lens material for the next progressive glasses you want to build.
This website is a magazine for professionals in the ophthalmic industry. Opticians, optometrists and ophthalmologists can get freshest information about the industry in general. But also great are the articles they have accessible on their website even if they are a little older.
I personally really enjoy a lot of articles on their website. One of those I liked the most was "The real details of vertex, tilt and wrap" and "Prisms and Progressives"". But those are just two that came to mind when I wrote this article here. So feel free to dive a little deeper into the information they present on their website.
This website also has a bunch of information on it about progressive lenses and dispensing lenses in general. There is free content there and in addition to that a paid course. I personally did not take the paid course but I really enjoy watching his YouTube channel.
Here you will find great information and he presents his points in an easy to digest way. So I recommend to check it out.
So this was my summary of the websites I really like when it comes to expert information about progressive lenses.
I wish you a great day.