Here in this article, you will learn more about Montblanc glasses frames. I will discuss the materials and the built quality in combination with the prices.
Montblanc is a major well-known label. The designs in the eyewear collection are very timeless. Classic shapes in combination with little refined details on the frames. The materials used for the manufacturing process are very common in the eyewear industry. Mostly Montblanc glasses frames are built of acetate and stainless steel.
With a price tag of 250 up to 400$, I personally would expect more premium materials like titanium in the collection.
The quality of the frames is very good but it is not outstanding compared to other brands with a similar price tag. This means the hinge work fine they align perfectly and there is nothing bad you can say in regards to the quality of the frames.
Materials Used in Combination With Montblanc Eyewear
The materials used to produce Montblanc glasses frames depend on the specific model you look at. Most of the plastic frames are made out of acetate while the metal frames are made out of stainless steel. Some of them also have applications made out of carbon fiber or wood.
Those materials mentioned are definitely quality materials but you get the same materials with every other brand. Of course when we speak about prices of luxury eyewear you need to expect to pay an extra for the label. But with the Montblanc frames, a bit of premium-feeling was missing when I hold the frames in my hands.
Prices of Montblanc Glasses
The price tag for a lot of Montblanc frames is a bit high. Maybe you can educate me on this but I could not find any evidence that Montblanc glasses are handmade. Because if they were handmade the prices would be justifiable. If not the marketing speak of passion and craftsmanship does look shallow to me in combination with the price tags of up to 400$.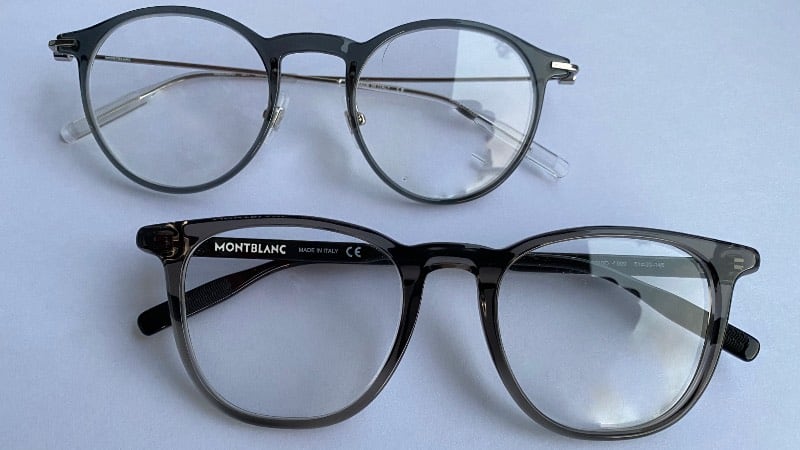 Who Manufactures Montblanc Glasses?
Kering Eyewear manufactures Montblanc Glasses in Europe. Montblanc (Richemont) has entered a licensing agreement with Kering Eyewear. Before 2019 Marcolin manufactured Montblanc glasses.
Built Quality
Montblanc`s buit quality is good. The frames in general feel light with a weight between 22g and 33g. The hinges move nicely and all parts align perfectly where they belong. The only thing that is built a bit different is the temple tip which has delicate fine notches on the inside of the temple tip. This feature should improve the fit.
Personally, I wished to see a bit of a difference when it comes to the mechanics. Obviously, there is not much you can change other than the hinges but Montblanc glasses are really just a good standard product.
The sunglasses, for example, are of course very good like the normal frames but there is no contrast-enhancing tech built into the lens. It is just good old basic stuff. But again with the sunglasses also things you get with every other label. For a premium and prestigious label like Montblanc real glass lenses would add something special to it, more durability, and even better optics. But no. You get plastic lenses.

Plastic has the advantage to be far lighter than glass and plastic does not shatter. But in regards to scratch resistance glass is far more superior. And if Ray Ban and Persol fit a lot of their model with real glass lenses. And customers often describe those lenses as superior the choice for Montblanc to use other lens materials is obvious. It would even underline their traditional spirit.
Design
The timeless design sits in the DNA of Montblanc. You will find the classic shapes that just worked over the last decades enhanced with refined designs. Some of them (mostly those with wooden applications) look even similar to the premium pens they sell. At least the temples remind you where Montblanc actually comes from. I like those details and if you are into very classy subtle frames Montblanc is a great choice for you.
Experience with Montblanc Eyewear
I wish there was something that stood out more about those frames. To me the collection is good but a detail here and there or more premium materials would underline the perceived value of the luxury label. I do not want to be mean but the Montblanc glasses I saw were simply very good and very boring frames every company could produce. But for a label of this magnitude in the luxury space I expect something different. At least a bit.