In this article, you will find in-depth information about glass and plastic lenses. This way you will have an easier time deciding if you want to buy a pair of glass or plastic lenses next time you need new glasses.
First of all, there are glass and plastic materials. Plastic lenses are also known as organic lenses. Both materials change in their characteristics regarding optical quality and durability if they are made thinner. The thinner the lens material gets the higher the refractive index you need to choose.
Have a look at the table down below. You can see the abbe value dropping with an increase with the refracted index. If this happens wearers of those lenses could see color fringes. Those are also known as chromatic aberrations. Some materials will have low abbe values even though the refractive index is not very high.
One example, therefore, is polycarbonate. The abbe value is very low. But of course, there are some other benefits to this material. The biggest is impact resistance.
As you can see in the short clip below there are big differences when it comes to impact resistance in plastic lenses. Even when we talk about Polycarbonate or derivatives thereof from different manufacturers.
Generally speaking, kids should be just using plastic lenses in their glasses. The most wearers of glasses use plastic lenses due to impact resistance and less weight. Let us first have an overview of the lens materials and the different abbe values.
Plastic and Glass Lens Materials With Their Refractive Index and Abbe Value Shown
| | | |
| --- | --- | --- |
| Lens Material | Refractive Index | Abbe Value |
| CR-39 (Plastic) | 1.498 | 58 |
| Trivex (Plastic) | 1.532 | 45 |
| Polycarbonate (Plastic) | 1.586 | 29 |
| Tribrid (Plastic) | 1.6 | 41 |
| High Index (Plastic) | 1.67 | 32 |
| High Index (Plastic) | 1.71 | 36 |
| High Index (Plastic) | 1.74 | 33 |
| Crown Glass (Glass) | 1.532 | 59 |
| Corning Clears 16 (Glass) | 1.6 | 42 |
| High Index (Glass) | 1.7 | 31 |
| High Index (Glass) | 1.8 | 25 |
| High Index (Glass) | 1.9 | 30.4 |

The Importance of Anti-Reflective Coatings in Glass and Plastic Lenses
In most cases, an anti reflective coating will be a worthwhile investment in your glasses. Depending on what material you choose it comes even a necessity. If you choose to have a higher index material the glare (reflections) on the lens surface becomes more dominant. The higher the index you choose the more glare you will have. This is true for plastic and glass materials.
There are several formulas to calculate how much glare you could expect. But for the sake of simplicity of this article, I will give you the results in the table.
| | |
| --- | --- |
| Refractive Index | How much light gets reflected by the lens surface? |
| 1.5 | 7.8% |
| 1.6 | 10.4% |
| 1.7 | 12.3% |
| 1.8 | 15.7% |
| 1.9 | 18.3% |
As you can see it is even more important to get an anti-reflective coating the higher the index gets of the lens material you choose to wear. Usually, with a refractive index of 1.5, you can still work but for the person in front of you, it gets in a lot of cases a little bit odd because this person will have a harder time seeing your pupils.
The reason of course is the glare. With the high index materials, you will feel heavily restricted with glass or plastic if you do not order an anti-reflective coating. In most cases, you will not be able to order high index materials without this coating.
Scratch Resistance of Glass and Plastic Lenses
There are several coatings that make plastic lenses more durable. But they never get as scratch resistant as good as classic glass lenses. When you do not clean your plastic lenses properly the lens surface will accumulate scratches very fast. As a result, the coatings peel off after a few years.
Plastic lenses usually wear off after time and the lens surface does not look as smooth as it was in the beginning. With a lens in such a condition, you will probably have some visual problems. Contrast can be reduced and starbursts can happen if you use those glasses at night.
This is normal after a few years with plastic lenses. The majority of people wearing plastic lenses will at some point have the need to replace the lenses even if the prescription did not change. In most cases, plastic lenses will last 4-5 years. If you wear glass lenses this experience will change.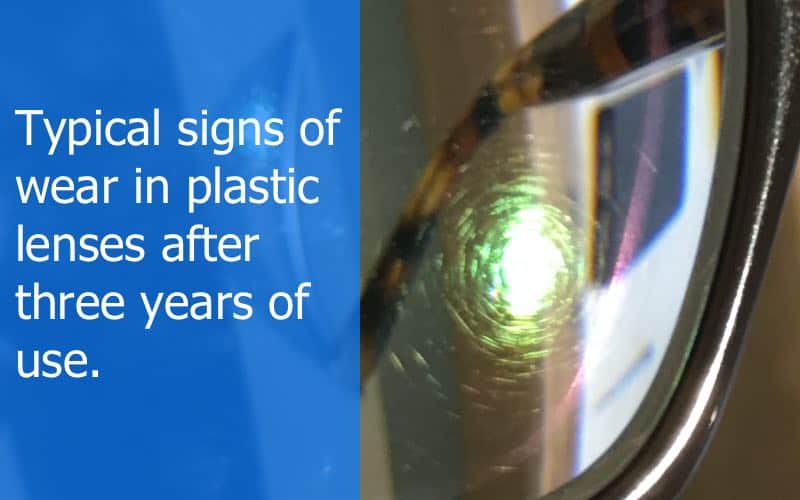 With glass lenses, the majority of people have a lens surface that looks almost untouched even after daily use for a few years. I would still recommend to clean your glass lenses properly and rinse them before rubbing the lenses. But if you rub them from time to time with your shirt glass lenses will withstand the strain.
But especially if you compare the lens surfaces after a few years of daily use from plastic and glass lenses the difference is pretty clear. The life span of plastic lenses is just shorter compared to glass lenses.
Weight of Plastic Lenses and Glass Lenses – Does it matter?
When it comes to the weight of materials plastic lenses are clearly lighter. But frankly spoken does 4 grams per lens more or less bother you when wearing your glasses all day long? This is the more useful question to ask. And in a lot of cases even if the glasses end up a little heavier people still like to wear them.
But a word of caution here. The weight distribution on your nose is highly dependable on:
How sensitive you are to weight on your nose
What frame you choose
If your nose is wider shaped or smaller shaped
Depending on those factors it is possible the experience is great for you. Especially if you have a wider shaped nose in combination with a plastic frame you have the perfect setting for glass lenses even if your prescription is higher.
Really heavy glasses weigh 50g or more. If your glasses weigh more than that you should consider plastic lenses again.
Real-Life Advice on Buying Glass or Plastic Lenses
A lot of people are a little confused when choosing glass or plastic lenses. There are some clear indicators that speak for glass lenses. Those indicators are:
A lot of dust flys around and sets on the lens surface
The wearer wants to use clothes to clean up the lenses
The wearer had a lot of issues in the past with the coatings on plastic lenses
The glasses need to be resistant to heat
But of course there are also some benefits that speak for plastic lenses like:
The lenses should be as easy to clean as possible (clean coatings on plastic lenses are better)
Newest tech in terms of lens designs in most cases is available in plastic lenses only
When it comes to permanent tints and photochromic tints you will have more options with plastic lenses
Plastic lenses deliver higher impact resistance
In short: In most cases, you need to decide if you prefer durability (glass lenses) over safety (plastic lenses) when buying your new glasses. Those are the biggest points to focus on to make your decision easier.
I wish you a great day.