This article focuses on how to get the biggest discounts for glasses. One thing should be said before we continue. Oftentimes when you buy something with a big discount in an optical the measurements are not optimal and the lenses can not unfold their true potential. But when the price is king for you read on and get the insides about getting glasses for cheap.
Here is a list of ways to get big discounts on glasses:
Buying online
Look for Online Deals
Buying at a local change with agressive marketing
Ask for a Price Match
Keep the Same Lenses and ask the optician to fit them in another frame
Keep your Frames and simply buy new lenses
Only opt for the cheapest options
Ask for a referral program
Buying Online
Buying online lenses online usually is a lot cheaper compared to buying at your local optical center. Even if you do not choose to buy from the cheapest provider online you will still end up with a hefty discount. Of course, when you save something you save for a reason. Things will not get taken into account like certain measurements. But in a lot of cases, the result is good enough for the wearer.
Look for Online Deals
Buying online already saves you a lot. Combining this with special offers will save you even more. Pro Tip: When you search the web do not type in the query discounts or cheap glasses. The best things in life come in for free. Search for free glasses and you will find online optical stores that provide you with one free pair of glasses. The screenshot below shows my search result.

Ask For a Price Match
Price negotiations are fun for very few sellers. Set a clear limit and show your optician an estimate with a clear price and the detailed product descriptions. he will either agree or refuse. Here you will get an answer very quickly. The more opticians you ask, the more likely you are to ask one who will say yes to the price. Especially chains have a very aggressive pricing policy. Sometimes things are even sold below cost.
Keep the Same Lenses and Ask the Optician if He or She Can Fit Them in a New Frame
Opticians are craftsmen and have the tools in the workshop to make your own lenses fit into a new frame. Therefore the lenses need to have just the right size and shape so the optician just needs to make the new frame a little warmer and pop the lenses in.
In case when you opt for a smaller frame the optician can also grind some material off your lenses. This way they get a little smaller and fit in a new frame. Even when this service costs 20 or 30 $ the overall discount will be higher because new saved yourself a new pair of lenses.
Just Tell the Optician He or She Should Reglaze Your Glasses
In a lot of cases, people buy new frames although their old frames are still in a perfectly good condition. they may be a little worn out but the optician can polish the frame, readjust it and of course, new lenses can be fit into an old frame.
This of course will not be the first advice of your optician because he sells frames and your sit in a room full of frames with the person who gets paid selling them. But simply say you would like to keep your old frame and you want the new lenses to be fitted in your frame.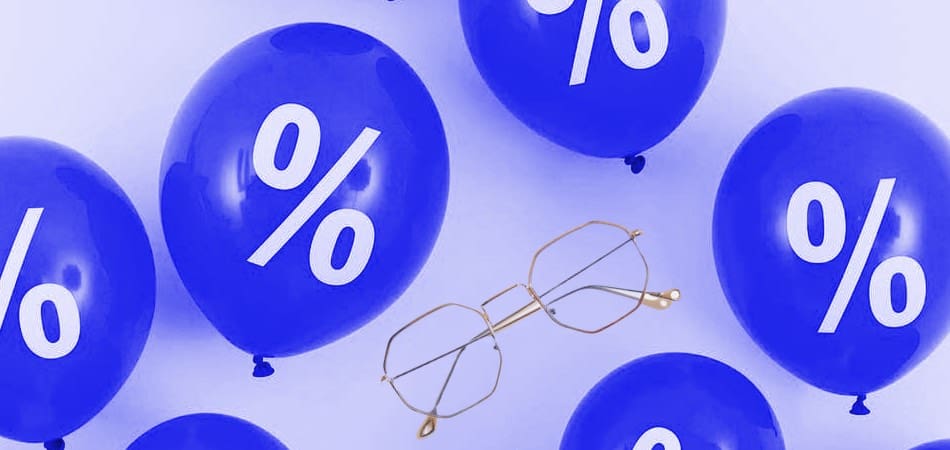 Only Opt For the Cheapest Options
You can simply ask the optician for the cheapest option. Skip all the add ons. Do not look at the samples of different coatings. Just go for the lenses only. No anti reflection coating no clean coat. In a lot of cases this option is not even listed because it is already included in the base price.
Ask For a Referral Program
Referral programs can make big dicounts possible. Depending how much people you can bring to a store you can even earn money. It works like this per new customer the shop gives you 30 or 50$. Depending on the referrral program you can do the math on how many people you need to bring in to get the glasses for free. Not every optical shop does this type of marketing. But some do.
What Is the Cheapest Way to Buy Prescription Glasses?
The cheapest way to buy prescription glasses is buying them online. Comparing the prices from different online retailer can save you up to 50% percent. Usually the better known online retailers advertise a lot and the prices need to be higher to refinance the cost of the advertisements.
Deals for glasses can be as cheap as paying literlly zero dollars on your glasses depending on the deal you get. So when you are eager to find the cheapest deal comparing a lot definetly makes sense.
One word of caution here. While you may find the same products on retail stores and online with different price tags they can work very differently. The reason for this is glasses can only work perfectly when the eye care professional takes care of the measurements which costs time.
Online retailers do no need to do this and still they say "best quality", or "high quality" in combination with their products. But when you dig a little deeper and compare higher end lenses with indivodual parameters you will see they oftentimes do not use them. So you may end up thinking you have the same product.
But in the end you get a high end lens with limited performance due to mussing measurements. Then the manufactuer will simply set a few parameters to default or standard but your viewing experience will get a little compromised. Depedning on you needed glasses this can have a smaller or bigger impact on your visual experience. If you want to learn more about buying progressive glasses online I have article here for you ready. The same principles I describe can be applied to higher end single vision lenses.