In this article, you will learn about progressive lenses from Maui Jim. After you read this article you will know what options you have.
You can find progressive lenses from Maui Jim only in frames from Maui Jim. In addition to that, the portfolio in terms of lens options is more limited compared to other manufacturers. Usually, the range of possible prescriptions is more limited and the tints they offer. But of course, those special tints made them famous. The contrasts just pop.
Mau Jim produces progressive glasses with their special tints in combination with polarization and clear lenses too. Depending on the frame you choose the progressive lenses will be flat as normal progressive lenses look like or wrapped around your head as you choose a curved frame.
My Experience with Maui Jim Progressive lenses
In my experience their progressive lenses work very well. Which is a bit funny because Maui Jim lenses can not be optimized in terms of how the frame sits in your face. In a lot of cases this makes a difference but especially if prescriptions are higher.
Those optimizations are necessary if the lenses sit a little more or less tilted in on your nose. The prescription will be then customized again in regard with the new fit. With lower prescription those optimizations often are a little less important.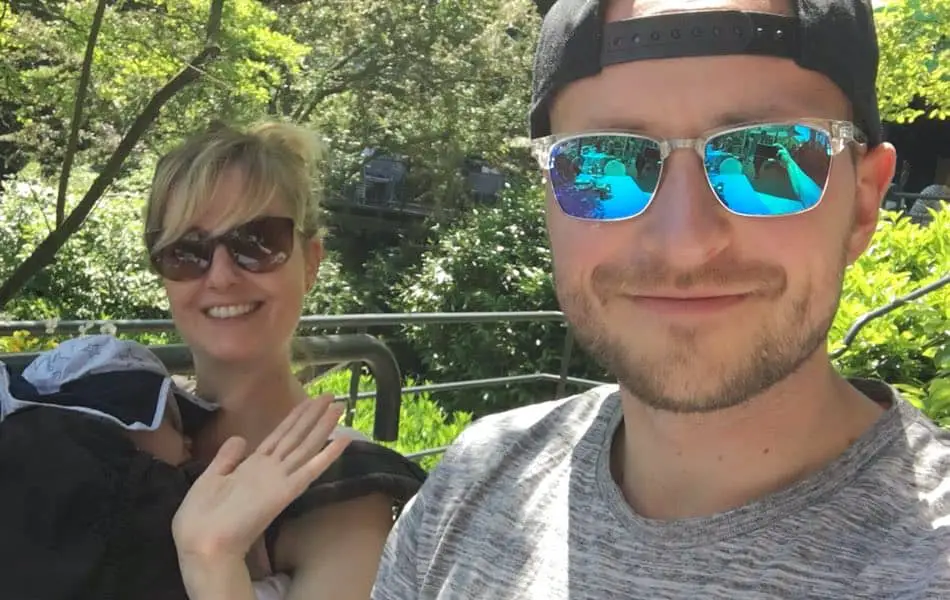 But those lenses even work for people with smaller or wider pupillary distances. And those lenses are not optimized with an individually positioned reading zone for a person with a small or wide pupilar distance.
Those are the information I got from asking Maui Jim. But nevertheless less we had no issues whatsoever with their lenses.
The Possible Materials for Maui Jim Progressive Lenses
The table below shows you the difference in possible lens materials for your next progressive lenses from Maui Jim. On the right side of the table, you will find the Abbe values. The higher this value is the better the visual experience will be.
| | |
| --- | --- |
| Name of the Material | Abbe Value |
| MAUIBRILLIANT | 56 |
| MAUI EVOLUTION | 43 |
| POLYCARBONATE | 30 |
| 1.67 HEV / High Contrast | 32 |
Mauibrilliant is my personal favorite when it comes to the options of the materials. Depending on how sensitive you are you will see or not see a difference in contours and clearance of the picture when switching materials. I had no issues with those lenses and sell them for a long time. There were also no issues whatsoever with Polycarbonate lenses.
But I can see the difference. The first three lens materials are available in Maui Jim sunglasses. The last option 1.67 HEV / and High Contrast ist just available in clear lenses in combination with their ophthalmic line. This is the line up with their "normal frames".
All Maui Jim Sunglasses have a blue light filter and so does the clear HEV material. Though the tinted lenses are more efficient in blocking the blue light. One option which is only available at Maui Jim despite the great colors and the superior polarization is the high contrast lens with a slight blue tint.
I personally have no experience with this high contrast lens from Maui Jim but I heard good things about it.
Color Options With Maui Jim Lenses
Here. in this table you will see the color options of the Maui Jim sunglasses. Those options are packages. Which means with a certain mirror goes a certain tint in the material of the lenses. Exceptions are Maui Gradient and Bi Gradient Mirror which are available with all colors.
| | | |
| --- | --- | --- |
| Name | Lens | Mirror |
| Maui Gradient | All | none |
| Bi Gradient Mirror | All | silver / gold |
| Blue Hawaii | grey | blue |
| Maui Sunrise | rose | rose |
| Hawaii Lava | brown | red |
Other colors are only available without prescription lenses. To me my favorite colors are the Maui Gradient lenses in combination with a neutral grey color. The reason is the tint in the lower half gets a little lighter and you can still enjoy perfect polarization. This way glare does not bother me and I can see the dashboard perfectly fine.
For days on which it is a little bit cloudy, I like the Blue Hawaii lenses best because the tint again is a little lighter compared to the upper part of the Maui gradient and to me, this means they are a good all in one solution when I am not feeling for dark tints.
As far as the frames go I own a couple of them. I really like the model Red Sands, Compass, and Kawika. The last one is by far my favorite model and I can recommend it with the blue lenses and the HCL brown ones.
After writing this article and thinking about Maui Jim sunglasses I realized how much I recommend them. Nearly everyone in my family wears them. I personally own a bunch of them and I never had a bad experience. Not once. And frankly spoken there are not many companies I could say similar things about.
So in short you can not go wrong with those glasses in general. Those progressive lenses are a bit simpler compared to other manufacturers but they worked nothing but great for me. And this is definitely the experience I personally want to have and for my customers in my optical shop.
I wish you a great day.