When you ask yourself which glasses do not break the answers you get can be very different. After reading this article you will know what options you have and what you should look out for when buying new glasses. Usually, opticians have two options when they provide an extremely durable frame. They are either very stiff or extremely flexible. The most common materials used which do not break are:
Titanium
Nylon
Some plastic frames made out of urethane
A little disclaimer here you can break anything if you are willing to apply enough force to it. But with the presented companies here in this article you will get glasses that are as durable and "unbreakable" as possible. If you just want to use them every day a very stiff and thicker titanium frame will work great for you. When adjusted well the frame will practically not compromise the great fit as other plastic frames might do over time.
If you want them for sports you should go with the more flexible ones because they will accommodate more when pressure is applied to them.
When my customers ask me about "which frames do not break" I immediately have three companies in mind. Not all models of them will have the same characteristics but we will get to this point in a minute.
Extreme Durability and the Unbreakable Design That Will Last Years
They are not specifically marketed as frames that do not break but out of my experience, I can say I never saw a thick titanium frame broken. It just never happened. For opticians thick titanium frames even when the complete temple is made out of titanium are a pain to get them fit perfectly behind your ears but I have customers that wear those types of frames for nearly a decade now or more. And the frames are still in phenomenal condition.

Here in the picture below I have such a frame in my hand. This is really a well-designed piece of eyewear built to last. To be clear Porsche Design also builds frames that have much thinner rims. But if you are looking for eyewear that will not break you should stay with the thicker ones. They are great.
A Delicate Glasses Frame That Will Not Break
In contrast to the mentioned thicker titanium frames from Porsche Design, Swissflex eyewear does also a great job of providing eyewear that will not break but with an approach that is totally different. The frames are made out of a high-tech polymer that is extremely light and very flexible. You will barely feel those glasses on your nose because of the minimal built structure. Speaking of which those frames are also as durable as they are because of the strain-free way they hold the lenses.

To be fair though I saw one frame broken. But I will still recommend them because of the comfort they provide when wearing them.
Marketed as Unbreakable – The Glorify Frames
Those frames are also on the top end when it comes to glasses frames that will not break. Their special polymer NBFX is extremely durable and also very lightweight. They have also flexible temples you can adjust yourself in their line of RX-ready models. By the way, they also have photochromic lenses that tint automatically.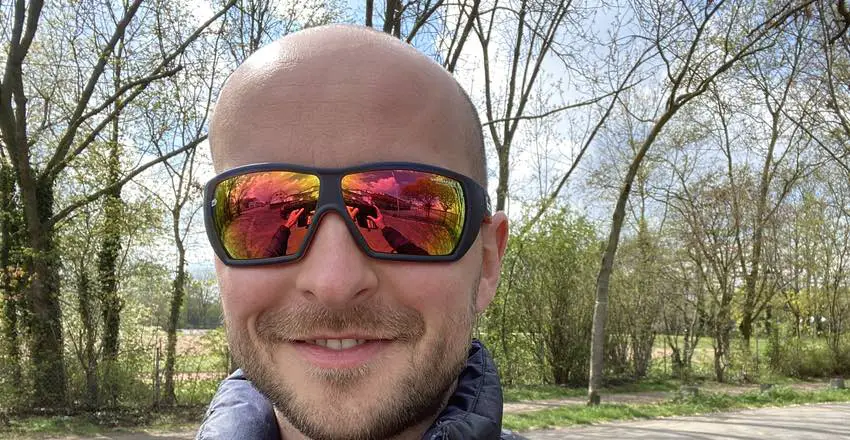 Glorify has a whole lineup of products whether you need daily unbreakable eyewear or polarized sunglasses. they have got you covered. Here in the picture above, I am wearing the KTM edition from glorify. The fit for you, of course, needs to be individually looked at but the materials of this model feel great, and although this is not the most delicate frame I can wear this eyewear the whole day when I am outside without any signs of pressure on my nose or my ears.
When you bend the frame a little you will notice the thicker parts are way less flexible towards the side where the hinges are located. But when you put it on you will not notice differences in regards to how the frame wraps around your head.
If you look at their videos here you will probably see you will not use those glasses to their full capabilities. And if this happens for example during sports you get great protection. Just watch the video below and you will get my point.
Although those lenses are also extremely durable and will not break as seen in this video the lens surface will take its toll after such torture. So in short, they are unbelievably durable and will not break but they are not indestructible.
What Option To Choose?
If you are about to buy a pair of frames that will not break I recommend looking at the options. In nearly all cases the very stiff frames will have nose pads that can be perfectly aligned to your nose. When the sides of your nose do not match up perfectly with a frame that does not have the nose pads I would definitely go with the one with nose pads.
The little parts make the glasses frame a little more breakable on the delicate parts. But if you need it because of how your nose is shaped I would not compromise the comfort of wearing it to get a frame that has a little less chance of breaking. When the nose pads can be clicked in they are mounted back on the frame in seconds anyway if you did not damage the frame too badly.
When you add RX lenses to the frame of your choice make sure you buy polycarbonate or trivex lenses. Only those provide superior impact resistance. My personal choice would be trivex which is in a lot of cases a little more expensive but the optical quality is just better compared to polycarbonate.
This article is based on my experiences I have as an optician working every day with those kind of glasses. As I stated above if you want to buy a frame from one of the mentioned companies speak to your local optician if this is really one of the durable ones. Not all of them are created equally.
I wish you a great day.