Malcolm X wore glasses from Sirmont, by American Optical. The actual style is called browline and is still en vogue today. The actual style of Malcolm x glasses is defined by the classic browline which is usually made out of acetate. Within the acetate plastic upper part, a thin metal frame, usually colored gold or silver holds the lenses.
Alternatively, there were also classic Malcolm x glasses available with a nylon thread. These days Sirmont by American Optical what Malcolm x wore is hard to find. But you can go with the following models listed below. They have the same iconic style and are available in different sizes.
RX5154 (Ray Ban)
Ronsir Zyl (Shuron)
FT 5504 (Tom Ford)
As you can see in the picture below the Malcolm X glasses really stand out with the mix of materials and decorative rivets. This is also what manufacturers try to incorporate with modern glasses when it comes to this iconic style.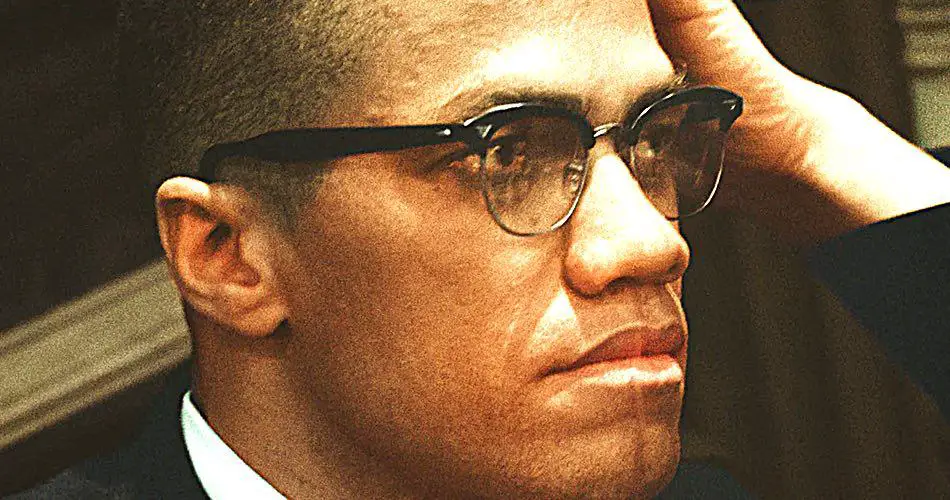 What face shape fits the Malcolm X Glasses?
What all Browline glasses have in common is that they look good especially on people with a rather slimmer more oval-shaped face. The reason: the striking upper rim makes the face appear wider by emphasizing the horizontal part. This provides great harmony.
The browline glasses are available in square shapes as well as in rounder shapes. The question really is in which category you fall when it comes to the shape of your face. I wrote an article if you want to know more what suits you best?
What Makes a Pair of Browline Glasses?
The most striking feature of browline glasses is the upper part of the frame. The name is due to the fact that the attention is drawn by the glasses to the browline. When you look at the images here in this post they present a really dominant dark plastic part on top. But these days modern browline glasses are also made out of metal. In some cases, they are even built out of titanium.

This means they look massive but they can actually be very comfortable to wear. Because of the light weight depending on the material. Speaking of different materials of those glasses. In the past, some manufactures had the option to swap out the parts for a different colored part. In most cases, this option is not available anymore. But you can order them in a wider variety of colors, shapes, and material mixes.