Here in this article, you will learn about the features of Novacel progressive lenses. Starting with the top the high-end progressive lens called Eden Alpha we work down to the less price intensive progressive lenses like the Ologram.
Here you will get a table where the lenses are listed and how the feature sets look like for every lens design. But be careful and do not judge to fast here because Novacel gets an unusual round here with the Eden Alpha. They do not have as many possibilities to customize the fields of view to your needs but it works well.
We will test it out and will release the test here of course on this page. But for now let us have a closer look at the table.
| | | | | | |
| --- | --- | --- | --- | --- | --- |
| | Eden Alpha | Symbioz | Inovis Optima | Synchrona 8G | Ologram |
| Customize position of the reading zones to achieve a bigger field of view | | ✓ | ✓ | | |
| Pantoscopic Tilt | | ✓ | | ✓ | |
| Wrap Angle | | | | | |
| Optimization for Lifestyle | | | ✓ | | |
| Vertex Distance | | ✓ | | | |
| Reading Distance | | ✓ | | ✓ | |
| Form Factor | ✓ | ✓ | ✓ | ✓ | ✓ |
Eden Alpha
As you can see the Eden alpha progressive lens from Novacel has no listed features. It is a standardized progressive lens in the newest generation. Novacel calls their new algortithm for the lens calculations Xtending Map II. The Eden alpha design is therefor the first progressive lens designs that utilizes this feature.
This way Novacel makes it possible to produce a very soft progressive lens design with less blur in the periphery. Usually other competitors from Novacel try to optimize the lenses for special distances and angles that get measured and the lenses parameters get customized for this setting.
This is not true with the Eden Alpha. It is optimized for a way of the frame with averaged out values. For some people this may be a benefit when they experience slight fluctuations in their prescription.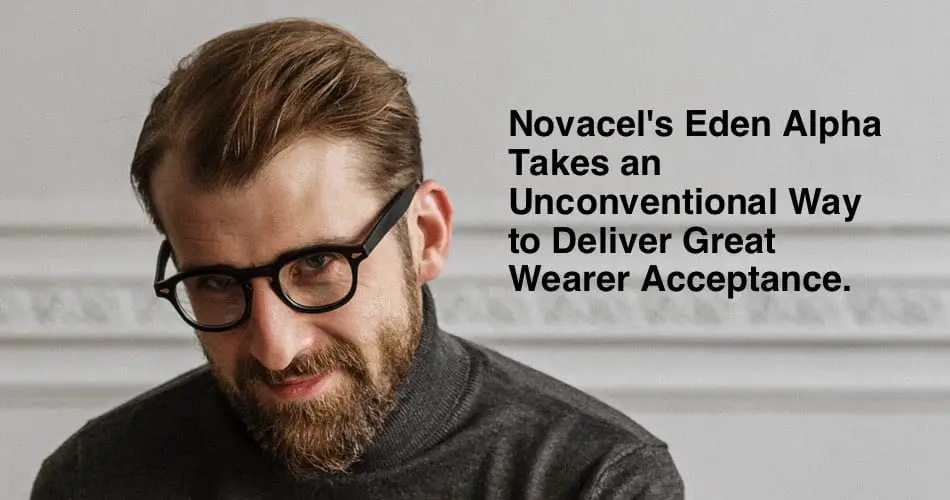 Under those conditions it can make sense to get a very balanced lens design which is not too optimized in one direction. However when you choose to have a frame that is heavily tilted in front of your eyes or when you have a higher prescription I personally would rather take a lens that can be optimized perfectly for the setting the lenses will be used in.
In addition to this if your puller distance is very big you will look through different spots in the lens while reading to someone with a very narrow pupillary distance. This is also something the Eden Alpha does not take into consideration.
Symbioz
The Symbioz progressive lens is a customized progressive lens which means the lens uses individual anatomical and fitting parameters to produce the biggest clear fields of view you can get.
This is done by an intelligent way to distribute the blurry fields of view. Because the lens actually uses the parameters to like your pupillary distance or the tilt it is sitting in front of your face to optimize the lens design for you.
Usually, this customization leads to a better acceptance with progressive lenses as this study here by Susan C Han tells and my experience definitely reassures that.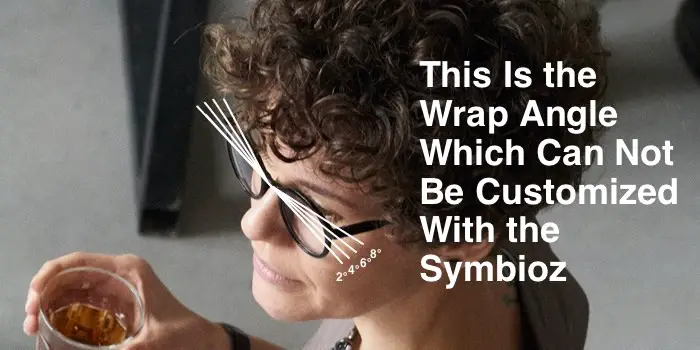 In general, this is a very good proven lens design in which a lot of things get considered. One thing that is not influencing the Sybioz line is the wrap angle. So you should not get a frame which is a curved looking or more on the sporty side.
Because if you do like to get a more wrapped around frame chances are high you get compromised fields of view in the end.
Inovis Optima
The Inovis Optima is a solid mid class progressive lens design which is not as customizable as the Symbioz line. It also shares some features with the high end line like the Xtending Map which widens the reading zones but those reading zones can not be positioned in such a fine tuned way as with the Symbioz line.
Here in this lens design the reading zones get optimized rather on different aspects of your prescription compared to how the glasses will sit in your face. This means a hyperope compared to a myope uses slightly other spots for reading because of the different influences the prescription makes here.

What the Inovis Optima has is an optimization of the clear field of view depending on the information of your lifestyle you will give the optician. During the ordering process, you can tell if you rather spend more time or less time in the following activities during your daily routines. The options here are called
Professional
Driving
Writing and Reading
TV/Cinema
other activities
In addition to the activities, you perform you can give the time you spend doing those activities too. Then with this gathered information, the lens design can be optimized for rather having the focus on the distance vision or the near zones.
But keep in mind only the fields of view for each distance gets a little bigger or smaller for you. For example the position for the reading zones is not as optimized as with the Symbioz line.
Synchrona 8G
The Synchrona progressive lens is an older lens design that received updates over the last two decades. Usually, with older progressive lens designs, you will have to look down more to reach full reading support. Not with the Syncrona 8G. This lens design is built for providing an easier time with your digital devices.
With this progressive lens design provides you a wide clear field of view. And when you perform eye movements a bit to the side the blurry fields are more dominant compared to the other lenses in the portfolio of Novacel.
This means the Synchrona 8G is harder lens design. Compared to this lens the Ologram progressive lens from Novacel provides a clear field of view that has a bit less width but the transition from the clear zone to the blurry zone is smoother and therefor a bit less noticeable.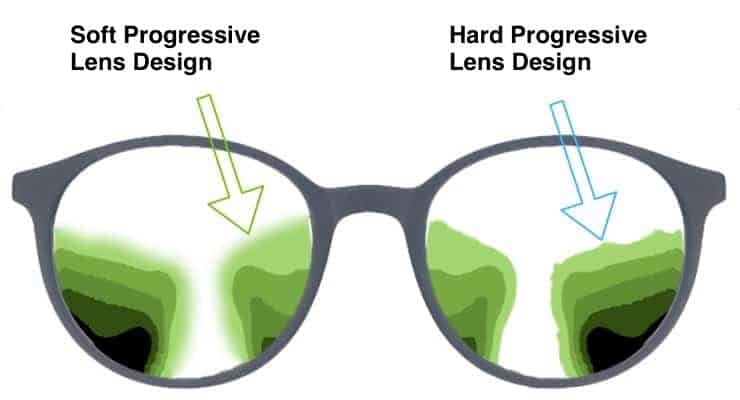 By the way the Synchrona is available with a very short transition from distance vision to reading power. It is called nano and the length is 8mm. This is really great if you have unequal lens powers. Because this unequal lens powers lead to side effects that deviate the picture differently for each eye.
The Synchrona 8G Nano is able to reduce this side effects to a minimum. Comparable lenses from other manufacturers are often only available with a 12mm or 14mm transition from distance power to reading power. This lens option is only recommended for people with unequal powers because it comes with the drawback of not really having an area for the mid distance.
So if you choose the Synchrona 8G Nano you will have to perform very little eye movements down to get full reading support. The transition is so fast there is no space for less reading power that gives you clear vision for your laptop. However if you buy a longer version of the Synchrona 8G you will be able to see your laptop better.
If you want to know more about if your progressive lenses are good for computer work read this article here.
Ologram
The Ologram progressive lens design from Novacel is a lens to start with when your Add value is in the range of +1,00 DPT. The more this value increases over time the more you will appreciate higher-end progressive lenses. Because they will do a better job in distributing the blurry fields of view.
Prices for the Progressive Lenses From Novacel
All prices listed here are starting prices for one progressive lens from Novacel. This means included are the base plastic material which is not a thinner material in combination with the coating Opalis that makes the lenses more durable and more transparent (aka. anti-reflective coating). Here no tint or special prescriptions like prisms are included.
| | |
| --- | --- |
| Progressive Lens Design From Novacel | Starting Price |
| Eden Alpha | 468,50€ |
| Symbioz | 374,40€ |
| Inovis Optima | 349,00€ |
| Synchrona 8G | 270,50€ |
| Ologram | 188,50€ |
The Coating Options With Novacel Lenses
Major clean
This coating has an anti reflective coating and a coating for more durability. It is a bit less price intensive but you have to deal with the tradeoff when it comes to clean the lens surface. It has no lotus effect.
Selis
If you want a coating that is easier to clean this is the coating you should order with your new lenses from Novacel. This coating makes it harder it easier for waterdrops to not stick as much on the lens surface. the same is true for fingerprints. Opticians call this oleophobic and hydrophobic coatings. Of course, it also comes with an anti-reflective coating (AR).
Opalis
The Opalis coating comes with even better cleaning capabilities as the Selis. In addition to this, it takes your UV protection to the next level with a coating on the back surface. With this coating, there is less UV rays reflected from the back surface to your eyes. The anti-reflective coating is also really good.
Blue Shock
The Blue shock coating has a blue glare on the lens surface that is more noticeable for you as you look through the lens and makes your eyes a bit harder to see. If you want a blue filter go with the filter in the material and skip this coating.
Airles
This coating has no color it is white in terms of the minimal glare it has on the lens surface. The rest of the coating in terms of the cleaning is comparable with the Opalis coating.
This is my little summary about the progressive lenses from Novacel. I hope you found exactly the information you were looking for.
I wish you a great day.