In this article, you will learn more about the differences between Maui Jim and Ray Ban sunglasses.
Both sunglasses have very different lenses and position themselves in the $170 to $330 price range with the bulk of the offerings. Ray Ban offers a large part of the collection without polarized lenses, while the non-polarized sunglasses are in the absolute minority at Maui Jim. Both companies also have some real glass lenses in the program, which are very resistant to scratches but unfortunately can break.
Another short piece of information in advance I am an optician and own Ray Bans and Maui Jims for about 15 to 20 years. I know the lenses use the glasses in different themselves. I will give my subjective opinion here, that of my customers, and objectively compare what is to be compared.
I personally think that the Maui Jim has the better sunglasses. The tints provide Maui Jim with better contrasts and more intense colors. While I sell sunglasses, I am of course often asked which has the better lenses. Often I have the customer then sent with a Maui Jim and a Ray Ban outside the door and said he should look through himself and tell me which is better.
The absolute majority prefer Maui Jim sunglasses. And that is especially true when buying more in the next few years. People who have once bought Maui Jim usually buy a Maui Jim again. However, there are also good reasons not to buy a Maui Jim. Read on to get your own impression of both sunglasses and to make the right decision for your next sunglasses.
Ray Bans vs Maui Jims Experience and Color Perception
The colors are perceived by most people with Maui Jim sunglasses as more intense than Ray Ban sunglasses. This is not only shown by the subjective impression but also quickly when reading data with a spectrometer. Here you can see the visible light with its wavelengths without sunglasses.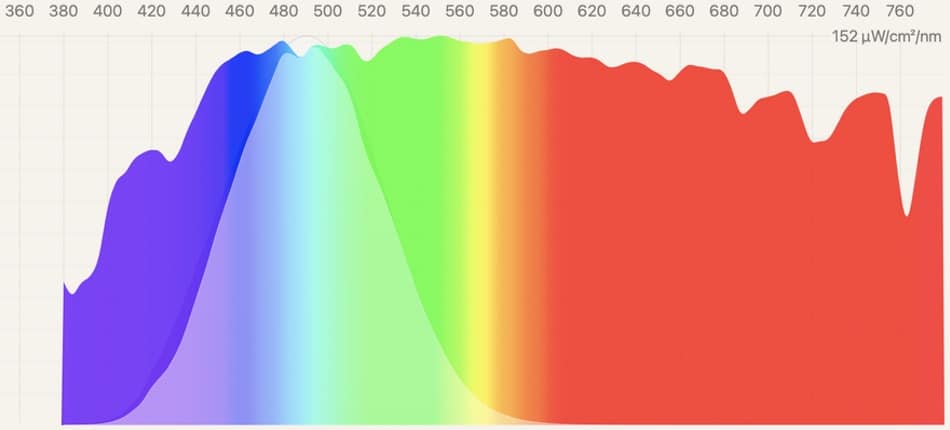 For example, below is the comparison of gray polarized lenses from Maui Jim and gray polarized lenses from Ray Ban. What you can clearly see is that the light is filtered much more evenly with sunglasses while Maui Jim filters much more violently in certain wavebands. In the warmer colors, we have a completely unequal ratio of the two lenses.
Even though I personally prefer Maui Jim, I can understand the argument of some of my customers who choose Ray Ban. If they do, it's usually with the argument that the colors are more natural with Ray Ban while Maui Jim offers too much contrast.
This is where the buyers of Ray Bans and Maui Jim part ways. While the Ray Ban buyers say they want to have a more natural color impression, the Maui Jim buyers say "madness I have the feeling to see even sharper with it". That is the impression I have too, by the way, even though no eyeglass prescription is incorporated.
Now these were very comparable glasses and the description of the typical reactions when looking through them. However, there are also sun lenses from Ray Ban that increase the contrast more and offer a comparable visual experience as with Maui Jim. These lenses are then called Chromance and also offer great contrast. However, these sun lenses are less present in Ray Ban's collection than Maui Jim's share of color-enhancing lenses.
Advantages and Disadvantages of Polarized Sunglasses of Maui Jim and Ray Ban
Now here has been a lot of positive talk about Maui Jim, but I've also had situations where the sunglasses were returned. The reason was often the polarization. Polarized sunglasses are actually something good. The light that reflects on surfaces is not only made darker but filtered out.
However, polarized sunglasses can also lead to nighttime disadvantages. For example, sunglasses with polarized lenses make it harder to read car or motorcycle dashboards. LCD displays, such as wristwatches, GPS devices or some smartphones, are also more difficult to see or have some colored shimmer.
The windows in the car can make tensions visible, which then show up as circles or spots, which cannot be perceived in this way. Pilots sometimes can't see properly out of the windows. So there are also good reasons against polarized lenses.
But Maui Jim has only polarized lenses in the program. In such a case, there is of course the greater selection at Ray Ban, since almost every model is available with and without polarization.
One of the points that Ray Ban and Maui Jim sunglasses have are the real glass lenses. Often the sunglasses with glass lenses do not look like new even after years. But of course these can splinter and alternatively there are also many models that have plastic lenses installed.
If you want to learn more about Ray Ban lenses I wrote a guide for you here.
The Comparison of the Coatings
If you look at the pretenses of both brands then there are even smaller differences. While at Ray Ban the entire lens is mirrored in if a mirror was applied then at Maui Jim only a part is mirrored. A sealant contributes minimally to the fact that the tint is more intense, i.e. darker.
Often the contrast thereby decreases slightly. Maui Jim has for this still a gradient in the pre-mirroring built. This means that the light from above from the direct sunlight and by reflecting from the ground or the water is blocked more strongly. Directly in front of the eyes there is no reflective coating to keep the contrast as high as possible. Some customers notice this while looking down from above, while others don't notice any difference.
When you look at the anti reflective coatings of Maui Jims and Ray Bans they are on par. But not all Ray Bans are AR coated and older Ray Bans (around 2010) definitely are not on the same level with their AR coatings. But Ray Ban improved a lot in this aspect.