When you do see strange colors with your glasses you experience chromatic aberrations. This is often described as a blue glow around objects. In this article, you will learn the cause of this problem and how to minimize it.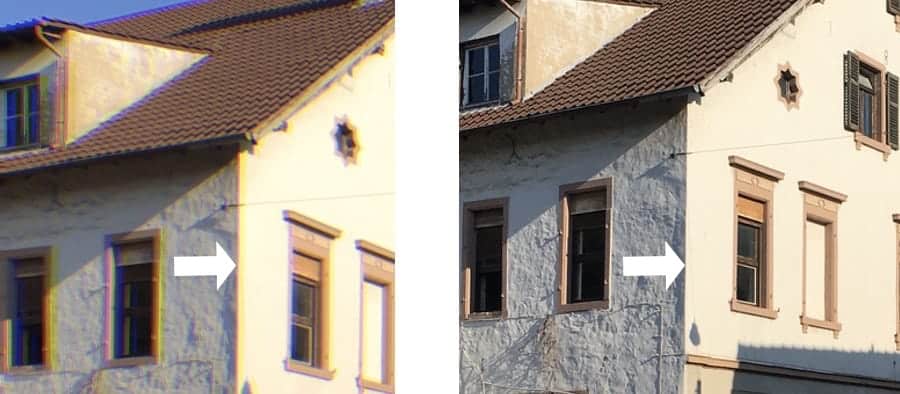 Here in this picture, you can see a little yellow glow (chromatic aberration) on the left side. The right side of the picture shows no chromatic aberrations. In most cases, this problem can be solved if you buy lenses with a material with a higher Abbe value. When the Abbe value is lower with thinner lenses (higher index) or Polycarbonate chromatic aberrations become more likely.
Here below I attached a table with different lens materials and their abbe values.
| | | |
| --- | --- | --- |
| Lens Material | Index | Abbe value |
| CR39 (Plastic) | 1.498 | 58 |
| Polycarbonate (Plastic) | 1.586 | 29 |
| Tribrid (Plastic) | 1.6 | 41 |
| High Index (Plastic) | 1.67 | 32 |
As you can see every lens material has different values. You get the least probability to end up seeing strange colors with your glasses if you choose CR 39. This is often the standard material because it produces thicker lenses.
Here down below the technical backgrounds are explained how chromatic aberrations work.
When light passes through the lens materials different wavelengths (different colors) have different focal lengths. Thus the image oftentimes appears less brilliant, or with a little colorful glow around the object. Depending from the distance between the object and you the color around the object can change.
In most cases the choice of the right lens material is the answer to get rid of chromatic aberrations or to reduce them. But in some cases this is not enough. Those aberrations are also more likely with a higher prescription.
With eye glasses that holds higher prescriptions the periphery of the lenses usually will give you a less ideal visual experience as you look through the side.
So in some cases especially if your prescription is higher than 6 diopters you should also think about picking a smaller frame next time you buy glasses. Because the more you can perform eye movements through the lens in the periphery with a high-powered prescription you will probably have more chromatic aberrations and in combination with them less visual acuity.
With higher prescriptions prismatic effects that can influence chromatic aberrations rise. There is a correlation between how far you look into the periphery and the needed lens power that produces prismatic effects.

The reason for the loss of visual acuity in the combination with chromatic aberrations is the different focal points for each color (wavelength). The more you look into the periphery of the lens the more those focal points detach. If you look straight through the center of the lens there will be best visual acuity and way less or no chromatic aberrations because of the alignment of the focal points.
Seldom Cases of Chromatic Lens Aberrations
In rare cases, the anti-reflective coating can also lead to chromatic aberrations. I experienced this effect by myself as I tested the Essilor Varilux X and Zeiss Individual 2 lenses.
In my tests I always ordered a lens material with an index of 1.6. In seldom cases I experienced a little colored glow. So if you have tried everything above and you still experience some strange colors think about switching the coating too.
I wish you a great day.