Tom Ford glasses have their own distinctive and discreet style. Here in this article, you will learn more about the materials and what you should consider when buying.
In this article, I will also tell you about the experience I had with my TOM FORD sunglasses and TOM FORD prescription glasses.
First of all, the materials that are used are high quality. In most cases, Tom Ford frames are made from acetate, stainless steel, or polyamide. Polyamide, for example, is a plastic that does not feel particularly high quality but it is very light and durable. With particularly large sunglasses such as the model Cassius, TOM FORD brings such a plastic to use.
The customers who typically buy TOM FORD glasses would like to have the current style and there is hardly a better purchase recommendation than TOM FORD. But when it comes to prices there are strong fluctuations, which are seasonal and depend on the eyewear dealer. For this reason, I would like to go more into detail on the price topic.
The Price of Tom Ford Eyewear
Because TOM FORD eyewear is mainly adapted to the current trends and these change quickly, it comes especially at the end of a season to heavy discounts. To save 50% on TOM FORD eyewear compared to the normal cost price is definitely possible. Here I mainly talk about online retailers. Because when purchase online the service and the rest of the craftsmanship in a local store do influence the price as much. If it's just about the price for you, I'll give you an example here:
TOM FORD official Website ITEM NO. FT0965 (Cassius Sunglasses) 495$
after a two-second Google search:
Random Online Optical Shop: FT0965 (Cassius Sunglasses) 220-300$
If you buy the glasses at a real optician such discounts are of course not possible, because he has to calculate differently with his craftsmanship and service, unlike an online mail order eyewear dealer.
Prices online don't vary as much at the beginning of a season. I checked the prices for this article at the end of the season. The online retailers that advertise the most are usually also the most expensive.
The Materials Used
The materials used with TOM FORD eyewear are usually of higher quality. However, it can also be that polyamide makes the whole experience very cheap in regards to the feel. In fact, this material is also used to make very cheap eyewear.
But most of the time you will get high-quality acetate in plastic frames and plastic lenses in sunglasses. These are often the frames that are priced between 200$-500$. There are also the frames that have titanium built-in for example that cost more than 600$.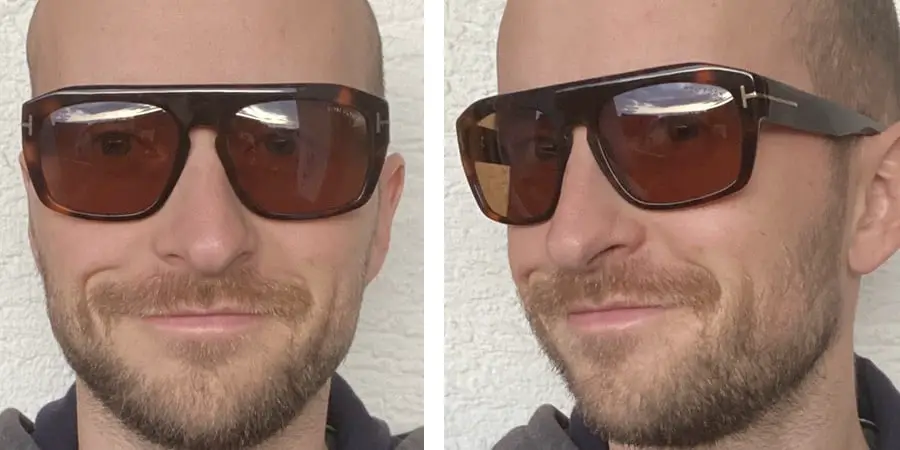 There I must say that I would be willing to pay such prices for sunglasses, for example, if the overall package with the lenses would be better. But TOM FORD Eyewear is unfortunately not designed to create the best possible contrast and a brilliant visual experience. But they are indeed simply breathtakingly beautiful. I explain my criticism more in detail in the point coatings.
Seriously, to get people to pay more than $500 just for the frame, not so many designers succeed as well as TOM FORD. But people simply fell in love with the style as soon as they tried a few frames on and found the right one.
The Quality of Workmanship at Tom Ford.
Although the frames are handmade, I often wished for a better quality of workmanship. With my customers, for example, we had scratches on the surface very quickly on metal frames and usually, the side metal elements are not riveted but only glued on the plastic. Is this a problem in everyday use?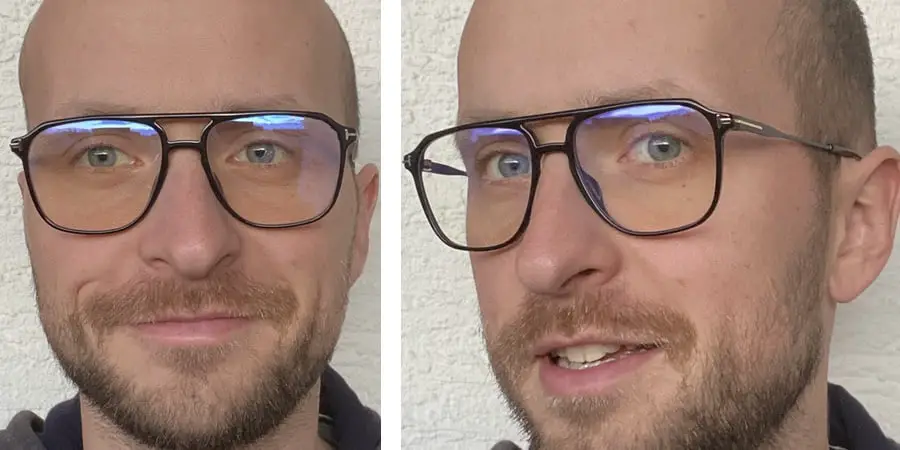 The scratches are definitely a problem because they diminish the experience with the frame. But that problem does not come up often. However, I also like to look at what I paid for and if I see that it is processed cheaper, then I find it a pity. But in fact, I have never had problems with the metal decorations on the sides of TOM FORD glasses. I personally just expect maximum quality when I pay up to 300$ or 400$ for sunglasses.
The Coatings on Sunglasses
One thing that always bothered me about my TOM FORD sunglasses was the back surface reflection. Practically every time I drove in my car I noticed reflections on the edges of the lenses of what was behind me. Or even when the sun was low behind me. That was really annoying. In itself, I really liked the sunglasses. That's why I even played with the idea of having higher-quality lenses installed in the sunglasses.
But at a price of 300$ such considerations should not have to arise. I'm not the biggest Ray Ban fan but at Ray Ban you get to half the price real glass lenses are much more resistant to scratches and the much cheaper glasses give a better premium feel. The same goes for the anti-reflective coating. There are many manufacturers who are a better choice when it comes to the lenses.
The conventional glasses with built-in prescription come in any way with other lenses. With these new prescription lenses, you should pay attention to a good anti-reflective coating.
Summary
In this article, I have included my experiences and the experiences of my customers. In summary, TOM FORD just has really beautiful designs in its eyewear collections. There are minimal differences compared to other labels but on the nose, these little differences can be very noticeable.
I personally would not buy new TOM FORD sunglasses again because of the inferior quality of the anti-reflective coating on the back surface of the lenses.
However, this statement probably holds true until I have fallen in love with another model of TOM FORD eyewear. In addition, when I bought them the joy was great. Especially the more extreme shapes in the sunglasses and the simpler design in the normal glasses are exactly my thing. Try TOM FORD Eyewear. If you can wait a few months and buy at the end of a season you will save a lot.