Eyeglasses are an easy, care-free accessory that can add a little something to every look. And for many of us, they're necessary pieces of equipment that we'd be lost without. Since we wear eyeglasses so prominently—on our faces—it's essential to make sure that we like the fashion statement that they're making.
The eyeglasses that we cover below vary between ultra-trendy and timeless classics, and each one of them is making the rounds now as the top styles worn by celebrities and the ultra-hip. We'll go over each of these styles in detail below, as well as how to find the best glasses for you and where the jury lies on oversized glasses.
What Eyeglasses Are in Style Now?
They say that the eyes are the windows to the soul, and certainly, your eyes are what most people focus on when interacting with you. So you want to make sure that yours are framed with a pair of killer eyeglasses that flatter your features.
It takes less than a second to make a first impression, so make sure that your glasses make a statement about you that you can stand behind.
The following styles will help you stand out from the crowd (or stylishly blend in—if that's your thing). These top eyewear trends are flattering to various face shapes and can be dressed up or down, depending on the look you're going for.
Aviator Eyeglasses
Nothing feels quite as cool as slipping on a pair of aviator sunglasses as you strut down the street. A lot of people don't realize it, but aviators are also available as eyeglasses.
Their slim profile allows them to be worn under helmets, and their relatively large lenses won't obstruct your peripheral vision like some other frames. This makes them perfect for long drives and wearing while biking, which is how they got their cool motorcycle association in the first place.
Aviators aren't likely to go out of style any time soon, though we've noticed people favoring the round style over the teardrop lately. Below you'll find an example of each.
(Teardrop) JIM HALO Aviator Eyeglasses – JIM HALO Aviator Eyeglasses are a classic example of teardrop aviator eyeglasses and are reminiscent of the ones worn by Chevy Chase in Family Vacation. If the look you're going for is "80's comedy dad," then look no further than these bad boys.
(Round) Ray-Ban RX3447V Metal Round Prescription Eyeglass Frames – These Ray-Ban RX3447V Metal Round Prescription Eyeglass Frames show off the round version of this style, maintaining the practical yet effortlessly cool look that only aviators can offer.
Bold Colors
Trendsetters have been enjoying fun and funky eyeglasses for years, and that's not going to change any time soon. Colors are still bright and bold, and we're even seeing multi-colored frames appearing on fashionable faces lately.
If you want an easy accessory that you don't have to worry too much about, a pair of brightly colored eyeglasses is a no-brainer. And to make things even more fun, pretty much any frame style you can think of can be made in a bright color, meaning that your choices are practically endless.
Grab a few inexpensive pairs so you can mix and match with your wardrobe, or pick one pair in a strong statement color and build your wardrobe around them. Here are a few examples to get you started: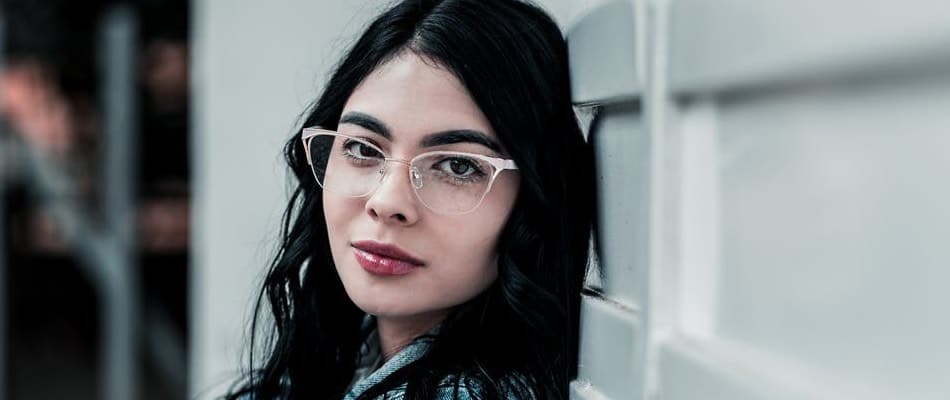 Browline/Half Rim/Horn-Rimmed Glasses
One of the trendiest eyewear styles right now was prevalent decades ago, first becoming popular in the 1950s.
Browline eyeglasses, also called half rim or horn-rimmed glasses, don't surround the entire lens the way that most glasses do. Instead, there is a thick frame at the top and only the lenses underneath, giving them a somewhat top-heavy appearance.
Trendy yet understated, these frames are flattering on just about everyone. If you're going for that old-school cool style, these are the ones to get. Here are a few of our favorites:
Clear Frames
On the opposite end of the spectrum from brightly colored glasses are the clear frames making the rounds in recent months. Clear frames can be understated or exaggerated depending on their size, thickness, and the style you choose.
Balance out an oversized frame shape by choosing clear, transparent frames that won't detract from your features. Or pair the clear frames with a thin, barely-there style, and people will forget that you're even wearing glasses at all. Take a look at some of the most popular styles in clear frames:
TIJN Clear Eyeglasses – Update your retro look with these TIJN Clear Eyeglasses, and be ahead of the trends. Everyone's got a pair of retro glasses by now, but how many clear ones have you seen?
CNLO Clear Glasses – For a more modern look, try CNLO Clear Glasses. They work equally well in the office or at a club, or even a laid-back brunch. These frames pair well with any style and situation.
D-Frame Eyeglasses
Can't decide between cat eyeglasses and horn-rimmed frames? Take a look at the D-frame style, a square or rectangle frame that tapers out slightly at the top where the arm meets the lens. This gives these glasses a slightly retro feel while maintaining a contemporary feel.
D-frames are perfect for people who like to keep up with the latest styles but aren't necessarily looking to be overly flashy about it. Take a look at a few of our favorites:
Dolce & Gabbana Eyeglasses – These subtle yet stylish Dolce & Gabbana Eyeglasses are flattering to many face shapes and go with any outfit.
Dita Buckeye DRX-2072-D-BLK-GLD-49 Eyeglasses – Dita Buckeye DRX-2072-D-BLK-GLD-49 Eyeglasses have a slightly more retro vibe than the Dolce and Gabbana ones above. These frames are ideal for achieving an understated "cool."
P3 Eyeglasses
If you've been paying attention so far, you'll have noticed how popular retro eyewear is. This is the case in clothing as well, so it makes sense that the trends would make their way to accessories like glasses.
If you like vintage styles, you'll love P3 eyeglasses, which came to market in the 1930s and were worn by the coolest of the cool—James Dean himself.
You can almost say that P3s are like a more rounded version of D-frame glasses since they have a similar slight flare where the arm meets the lens. Take a look below:
zeroUV P3 Eyeglasses – These zeroUV P3 Eyeglasses have a unique double bridge feature that sets them apart from most models you'll find. These frames are minimalist cool at its best.
Eareada Vintage Round P3 Glasses – Eareada Vintage Round Ps Glasses will take you from the boardroom to the dance floor. These frames are suitable for a variety of face shapes and styles.
Translucent Frames
The past several years have seen a considerable increase in thick, brightly colored frames. And if you look closely, you'll notice that most of these styles are completely opaque, meaning that you can't see through them.
In more recent months, a subtle but noticeable change has been occurring in that translucent eyeglasses frames are starting to crop up. Unlike clear frames, which are entirely see-through, translucent frames are halfway between transparent and opaque, allowing you to see through just a little bit.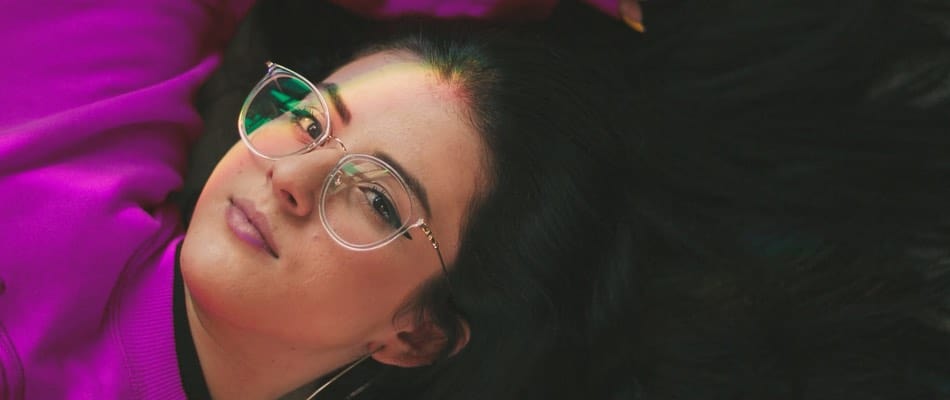 Translucent glasses come in every color of the rainbow, including animal prints; many of your favorite styles may already be available in a translucent variety.
Grab a pair of translucent glasses to let people know that you're ahead of the curve, and watch your followers do the same. Take a look at how these translucent eyeglasses give a subtle pop of color without being overwhelming.
Michael Kors MK 4035 3689 TRANSLUCENT MULBERRY – Michael Kors MK 4035 3689 TRANSLUCENT MULBERRY is a luxury pair of eyeglasses that boasts a translucent frame and allows you to add some color to your look without being over the top about it.
Armear Vintage Oval Glasses – Armear Vintage Oval Glasses combine a fun leopard print and trendy translucent frames in a flattering cat-eye shape.
Tortoise Shell Glasses
Tortoise shell glasses have been around for decades, and before the 1970's they were made of real tortoise shells. Fortunately, we've come a long way since then, but this pattern has stayed.
Tortoise shell offers a classic, academic look, making it perfect for glasses you want to take from the office to date night. This pattern works equally well with timeless styles and more up-to-the-minute frames. Get it in the usual opaque variety, or opt for a more translucent style.
Having trouble picturing what the tortoise shell pattern looks like? Take a look at these:
Wooden Frames
The animal world rejoiced when eyeglasses manufacturers stopped making frames out of things like bone and tortoise shells. But as we learn more about the harmful effects of plastic pollution, many eyeglasses wearers look for a more sustainable alternative to plastic frames.
Wooden frames are better for the environment and allow you to show off your eco-chic vibes to fellow Earth lovers.
Need a couple of examples? Take a look at a couple of our favorites:
SOOLALA Cool Retro Style Wooden Reading Glasses – SOOLALA Cool Retro Style Wooden Reading Glasses are unisex frames that give off a definite hipster vibe. Pop these on, and you'll be the talk of the coffee house.
Gold & Wood Wooden Cat Eye Glasses – These Gold & Wood Wooden Cat Eye Glasses take cat eyeglasses to a whole other level. Wood adds a little warmth to the secretary-chic look of these vintage-shaped frames.
Are Oversized Glasses Still in Style?
Surprisingly, what once seemed like it would be a passing fad is still here for another year. Yes, that's right—oversized eyeglasses are still very much in style. What once belonged to dorky dads in '80s movies is now to be enjoyed by fashionistas young and old.
Everything in fashion is cyclical, so breathing new life into styles from days gone by is nothing new. Oversized frames are one way to express your retro vibes, in anything from clear frames to think frames with bold colors. Giant aviators and thick squares are especially popular.
Retro not your thing? Opt for a more contemporary look with a funky geometric shape. There's still nothing quite like a pair of oversized glasses to make an effortless statement, and it works with virtually any frame style or shape.
What Will the Next Eyeglasses Trend Be?
As we've already discussed, retro eyeglasses are insanely popular with people of all ages. But while the oversized '70s and '80s frames are the big thing right now, smaller round frames of the '80s and '90s are starting to pop up here and there.
If you're having trouble picturing them, imagine John Lennon or picture Winona Ryder in Reality Bites.
It makes sense if you think about it—it's not uncommon for trends to be replaced by their polar opposites:
From miniskirts to maxi dresses
Ballerina flats to chunky boots
Flowing '70s hair to extreme '80s cuts
So once we've had our fun with the oversized glasses (which will be around for a few years), frames will probably start to veer towards the smaller, minimalist side. It's really only a question of how soon and how small they'll get.
How to Find the Right Eyeglasses for You
It's easy enough to figure out what's popular right now by watching television and reading the latest fashion magazines (or reading this guide, of course). But with all the choices out there and all the conflicting style advice, it can be a little more challenging to figure out which eyeglasses will work best for you.
We've bought many glasses in our time, so we have a pretty good idea of what works and what doesn't when it comes to glasses shopping. Here are a few things to consider:
Face Shape
Before you even think about fashion and colors and all of that, it's essential to look at your face shape when picking out eyeglasses if you want to find a pair that suits you. Just because a particular style looks fantastic on Kim Kardashian doesn't mean that it will work for you.
Everybody's different, which means everybody needs to find the unique styles that work for them. With eyewear, a large part of that is figuring out what your face shape is, and which styles work best for that shape.
Keep in mind that this advice is only intended to guide you in the right direction; most people are a mix of a couple of face shapes, so it's not an exact science. Plus, just like with body types, someone with one shape might play it up, while others might prefer to balance it out or draw attention away from it.
But once you know a little about the main face shapes and how certain styles look on them, you'll be better equipped to know which eyeglasses will have the impact you're looking for.
Heart
Heart-shaped faces are widest at the forehead and narrow as they reach the chin. This face shape can be round or long, so a wide variety of glasses may be suitable. Examples of people with heart-shaped faces include the Olsen twins and Reese Witherspoon.
Some people with heart-shaped faces prefer to play up the shape using upswept styles like cat-eye or browline glasses, while others prefer to balance it out by wearing glasses with a thicker frame at the bottom.
Often, frames that are wider than the forehead work best for people with heart-shaped faces.
Square
Square-shaped faces are about as wide as they are long and are very angular. Celebrity examples are Jennifer Anniston and Sandra Bullock.
Because this face shape is pretty strong, you might consider wearing thin frames that let the face shape take center stage. If you have a square face shape and you'd like glasses that balance it out, look for round or oval frames.
Round
Round faces, a shape shared by Isla Fisher and Drew Barrymore, are about equally wide at the forehead and jaw but slightly wider at the cheekbones.
Round faces look amazing in thick frames. Rectangular and geometric frames can be a pleasant opposition to the curves of this face shape, and cat-eye and D-framed glasses can add a sense of balance.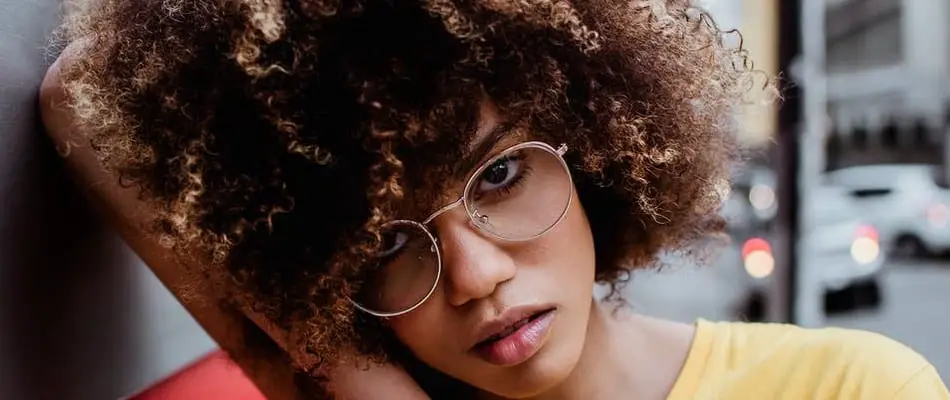 Triangular
A triangular face shape is the opposite of a heart shape. This shape is widest at the jaw with a narrow forehead.
Triangular faces tend to be somewhat angular, so you can create balance using rounded frames. Wearing frames that are thicker on the top than on the bottom will also balance the features.
Oval
Oval-shaped faces are about even at the jaw and forehead and slightly wider at the cheekbones. Rihanna and Cameron Diaz are good examples of people who have this face shape.
Oval faces are perfectly balanced, making them the most versatile face shape when it comes to eyewear. Play up your eyes with the ever flattering cat eyeglasses, or try a new style with a bold geometric shape.
Your Size
Even if you go out of your way to pick a style that's flattering to your face shape, it's not going to look good unless the frames fit your face; this is especially important to keep in mind when shopping online since it can be hard to tell how big or small a pair of eyeglasses is without trying them on in-person.
Not only will the wrong size glasses be uncomfortable, but they also probably won't give you the look that you're going for.
A pair of thick frames will look like much more of a statement on a petite face than on a larger one. Likewise, a tiny pair of wire-rimmed glasses will look much different on an above-average sized person than on someone of smaller proportions.
If you're looking to play up your size or going for a bold look, then it might work to have a pair of glasses that's very large or small on your face—just be sure that that's what you're going for before ordering.
A Note About Buying Online
Most online eyeglasses retailers will give you an idea of the frame size by:
Using descriptors like small, medium, large
Including the measurements
Showing them on a model
The best way to figure out what size frame you need is, of course, trying the glasses on. It might not always be possible to try on the pair you want beforehand, as is the case with online shopping, but what you can do is try on similar pairs at your local store and get an idea of their size.
If you know the measurements of the similar frames you tried on, you can compare them to the measurements online. If you don't have a pair for comparison, it might help measure yourself for glasses.
Personality
If you've been wearing eyeglasses for a while, you're probably already pretty good at finding glasses that suit your personality.
But if glasses are new to you, it's easy to get swept away thinking about all the bold styles you want to try without taking the time to think about what you'll actually feel comfortable in. 
If you're generally a conservative dresser and aren't into accessories, you might feel most comfortable in a pair of minimal frames that don't scream for attention. If, on the other hand, you love bold prints and are forever stocking up on huge costume jewelry, then a pair of eye-catching glasses might be just the thing for you.
Of course, the fun thing about fashion is that nothing's set in stone, and there's always room to change your look and experiment with new styles. So if there's a pair of glasses that aren't exactly your style, but you can't stop thinking about them, it might be time to give your look an update.
Lifestyle
Most glasses these days can go from the office to date night with no problem. However, it's still worth taking a minute to think about what you spend most of your time doing and whether the pair of glasses you want will be appropriate for the different environments and activities you encounter in day-to-day life.
Are you active most of the day? Is there a specific image you need to portray while at work? Do you do a lot of driving? These are just a few questions you can ask yourself when you're shopping for that perfect pair.
Budget
These days, you can find frames for a few dollars, or you can spend hundreds—it's entirely up to you. Often, you get what you pay for in terms of material and quality, but it's also true that you don't need to break the bank to get a decent pair of glasses.
If you like to keep up with the latest fads or are always losing or breaking your glasses, you might want to go for less expensive options so you can more easily replace them. If brand names are important to you or you plan to keep the same pair for years, then it might make sense to spend a little more.
Remember that there are usually less expensive alternatives for even the most expensive eyeglasses, so don't feel like you need to go over your budget to find stylish frames.
Final Thoughts
Now that you have a better idea of the top trends in eyewear and how to find a pair that works for you, you're ready to find that perfect pair of eyeglasses. 
Remember to have fun with it and find a pair that you're happy with, regardless of what's in style. After all, true style is feeling comfortable and confident and letting your personality shine through, not copying what everyone else is doing. If you find a pair of glasses that you love, then trust us, you look great!