When you ask yourself what glasses brands are not owned by Luxottica you are in the right place. Here in this article, I listed a lot of brands with small descriptions about what they do and a few pieces of information about their design.
Recently a few people asked if I could write an article like this. After selling glasses and working in an optical store for more than 15 years I have experience with a lot of those brands. Some of the independent labels below are only available in the US and some only sell online while others use local optical shops to distribute their collections.
Whatever you designs you ware looking for with the brands listed below not owned by Luxottica you will find it here.
99 JOHN ST. NYC
99 John St.NYC is a brand distributed by EBM in Europe. They are producing glasses frames often made out of the Ultem material with clip-on sunglasses.
This manufacturer is found more towards the higher end of prescription eyewear. With the usage of gold and an uncommon design language, this eyewear can be bought in Asia or in their online shop.
9Five is an interesting brand that sells retro eyewear. The designs really speak for themselves. They take what was common decades ago and mix it with new chique.
Ahlem is a brand sold worldwide. They have sustainability in mind. Typically with fashion products, the companies selling them do not think about getting them back or thinking where they might end up. They offer a credit system which I never saw before in the eyewear industry.
Andy Wolf is a very popular independent label. While most of the brands here not owned by Luxottica they are not very well known. But Andy Wolf made a name in the eye wear industry. It is one of the labels that provides hand crafted eyewear with great design you can wear every day.
In some cases, the wearer of glasses needs special sizes or just wants a frame back they lost and the original manufacturer just discontinued it. When you want your favorite frame back they have a frame duplication program for you. I heard for the first time a manufacturer provides this type of service. So if you need a special color in combination with a frame they will produce it.
When you browse the online shop of this eyewear manufacturer you will find very interesting and colorful frames. They are frankly spoken very refreshing with styles you typically do not see in the streets.
Ayame ID has a very subtle design lanuage combined with harmonic colors. They are located and sell in Asia only.
This independent manufacturer of eyewear is located in Australia and sells glasses for a less intense price point. A lot of the design comes from a time where glasses frames where more dominant.
Barton Pereira produces timeless classic designs you can wear every day and look great. Their colors are chosen wisely in combination with shapes that will play together in a very harmonic way with your face. The frames are meticulously crafted by hand in Japan. A single pair of Barton Perreira frames takes weeks to refine. That is true craftsmanship.
Bevel has a very colorful portfolio of frames. But not only the colors speak for themselves. They also have cool shapes you would not expect. They can be bought at local opticians.
Blake Kuwahara frames can not be purchased in online shops. you can buy them at local optical shops. When you look at three collections you will see unique designs with inlays and cuts towards the temples you typically would not expect. Here you will find interesting frames with new design approaches.
Blyszak
Blyszak frames are crafted by hand with materials like horn. You will find interesting material mixes looking deeper into the collection of this manufacturer. The London-based brand is utilizing ethically sourced buffalo horn for theirs frames.
Bonlook
Bonlook produces eyewear and sells it though their online shop. They have a lot of styles available and are a little more oriented in the mainstream fashion department with less price intense frames.
Booth and Bruce
Booth and Bruce has a lot of design elements out of the 80s which provides a collaboration of urban chic, and daring design, mixed with interesting colour schemes.
Chrome Hearts
Chrome hearts is a brand with massive frames. They get recognized immediately with the dominant emblem mounted on the temples. If you are looking for a frame that looks really interesting and you do not mind about weight get eyewear from chrome hearts. Definitely, a label that speaks luxury.
Oliver Goldsmith
Oliver Goldsmith's spectacles and sunglasses provide you with the classic style from the 60s. They have great-looking frames with harmonic colors. Today the company is still run by the family goldsmith in the 4th generation.
Cubitts
Cubitts is also an independent manufacturer that has a program to design your own custom glasses. It is called bespoke and you can choose from up to 140 colors. The frame will be then manufactured for you within four weeks. The company is located in the UK.
This manufacturer of eye wear has some interesting models. The CGOP-1383 has some deeper looking structures in the acetate (plastic). This structures add depth to the frame. They have a whole mix of designs available on their website.
Dita
Dita is a Premium brand with limited retail locations. They finish all their frames in Japan. The level of detail in our frames is great. When you have a Dita frame in your hand you can feel the superior quality. Dita also provides alternative fit options if a model does not sit comfortable on your nose.
Drift eyewear is a manufacturer that combines natural materials like wood with acetate and finishes it with a great design. The frames are made in Chicago.
Etnia is a Spanish manufacturer with dominant colors. They combine classic Havana acetate materials with popping colors. This manufacturer catches your eye out of the mass of frames placed on the wall in an optical store.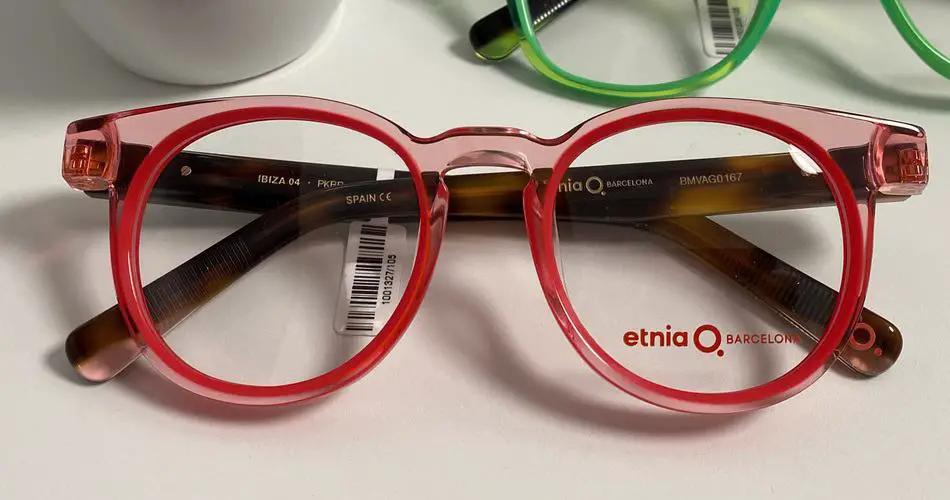 EyeBuyDirect
When you look at their website you will notice right away the prices are unbelievable cheap. But last time I checked this manufacturer had an offer that said "buy 1 get 1 free". So they can go even cheaper.
EYEVAN 7285 has a flagship store in Tokyo but this eyewear manufacturer sells world wide. When you have look at their collection you will find more vintage type of glasses with the design language from the 50s.
This brand is well known for the work of Pascal Jaulent. He resembles small subtle pieces of architecture and plays with volumes, shapes, material and textures the collection of the unique eyewear out of Paris.
Fhone is a German independent label that produces handmade frames. They have really classic design when it comes to natural materials like a horn. When it comes to the designs they are a little more voluminous than most designs on the market. Personally, I really like the model, Elliot.
The collections from Fleye are a unique mixture between modern and traditional. This company produces in Denmark.
Freudenhaus is the second label here on the list owned by Stefan Flatscher and Uwe Pinhammer. They also run Fhone. They believe that glasses become a part of your personality. So they say: "Love your glasses – 
as you love yourself!"
This manufacturer has different designs and materials in the portfolio. Titanium, horn, and stainless steel are used to manufacture building glasses frames with an iconic design.
Funk eyewear is also a German manufacturer that puts the emphasis on sustainable eyewear. The frames are manufacturers in Kinsau. The spectacles by Dieter Funk and Sashee Schuster are hand-crafted. 
Garret Leight is an independent eyewear brand committed to creating high-quality, handmade eyewear inspired by the people, places, and stories of California. They focus on the little details and use materials other brands do not. For example, they use a real glass of their sunglasses which makes them unbelievably resistant to scratches.
Did you ever wanted a frame out of solid gold? Then do not look further Gold and wood will built you one. They use exclusive materials and have stellar build quality.
This manufacturer of glasses sees eyewear as more of a side business I guess. This company is more known for its apparel than for the frames. But they definitely have some unique styles like the sunglasses "unborn".
The French eyewear house HARRY LARY'S offers original frames that combine creativity & elegance. This company provides unusual colored acetates, the development of exclusive materials and pure designs give the HARRY LARY'S* collections a unique style. The collection is completely hand-made in France with the best craftsmanship techniques and traditional know-how. All the frames are made out of acetate from the old prestigious Italian house Mazzucchelli.
For this manufacturer Mass production is a no-go: HENAU swears by unique, hand-drawn designs, profiling itself as a true eyewear couturier. This independent brand is available at over 750 local stores. When you look at the lookbooks you will notice the unique design. Every company says that but this manufacturer definitely takes designs to a new level with shapes I bet you did not see before.
As this name suggests this manufacturer is specialized in materials like horn, wood, and schistous rock. They are definitely a premium brand that focuses on sustainable materials. They produce in Germany.
IC Berlin is an independent eyewear manufacturer that is well known for the interesting design and innovative engineering. They have screw-less engineered hinges and enormous flexibility.
Italia Independent has wide range of eyewear available in their online shop as well as in optical stores. Most of the frames available are in the mid price range starting at 150$. But some of the models go up to 600$ like with the HUBLOT H008O frame. They use every well known material in their collection. But what was definetly eye catching to me was the models with velvet. So if you are looking for a frame that is unbelievable oddly to the touch go check them out.
This label has its roots in Los Angelos. Their style is iconic with a lot of love for eye-catching details. They are definitely a premium brand and one of my favorite models from this manufacturer is the DEALAN – ALESSANDRO SQUARZI in the color CHARCOAL. It is already sold out because it was only limited to 300 pieces.
They also have the Circa Collection which is produced in Japan by esteemed partners whose advanced techniques are steeped in a rich heritage that stems from the golden age of eyewear production. The unique colorways, sculptural shapes, and reflective volumes that have become the hallmark of the collection are created through a complex production process that ensures every detail is tweaked to perfection. Just look at the hinges and how they are manufactured on their side.
Jins is a label based in Japan with all kinds of styles of eyewear in their online shop. What is really interesting about their frames is the ultra-lightweight glasses weighing in at only 5 grams. This is very impressive as most lightweight frames weigh more than 10 grams without glasses in them.
This brand is found in Japan only. The modes In their collection starting at 300$. They have classic looking sunglasses as well as glasses frames ready for your prescription.
This brand is designed in California and crafted in Italy. They are very reasonalble priced for the service they provide. Did you ever hear about life time warranty for the lenses? Buy sunglasses for them and you will get them. Every pair of sunglasses from them is polarized with glass-like clarity, featherweight construction and fierce impact resistance. They have sunglasses only.
Norwegian brand with optical stores in Norway only. But if you want to buy from them check out their online store. They provide world wide shipping.
Kala has all kinds of interesting designs. One part of the collection is the 360° line up from them that was interesting to me as an optician. Every here and then a customer asks me if I know a company with perfectly round glasses. And with Kala you will definitely find your new round frame.
This independent manufacturer has sunglasses and spectacle frames in their collection. If you like clip in glasses they have a wide range of them available.
KANEKO OPTICAL Company was founded in 1958. Today, KANEKO OPTICAL engages in planning, designing, and selling of eyewear. They hold the largest share in the Japanese eyewear market as an eyewear trend leader.
This brand is from Oslo. Their design is best described as modernized retro classic. There is a bit of nostalgia coming up looking at the oversized frames. I like that.
Kirk and Kirk has very popping colors. They have more voluminous designs. Their designs have been nominated for prominent design awards and the team has been profiled in The Guardian and 20/20 Magazine.
Kockaround
This company produces great sunglasses for a very low price.
This eyewear manufacturer started selling their collection not in optical stores but on festivals around New Orleans. I mentioned some outstanding services here of some companies. And they offer you a special guarantee. Every hand-crafted pair of KREWE frames is covered by our Second Chances program, so if you damage or break your frames, the first replacement pair is on them. If you purchased a full-price frame, they'll replace them with a brand-spanking-new pair.
Ever thought about getting a frame that really stands out? Then Kuboraum is for you. They have very extreme designs that shy away from the mainstream. Sure this is not for everyone but exploring their collection is worthwhile.
My favorite is the A1TIMELESS from them.
This brand focuses more on the subtle design elements and colors that are less dominant. Most of the prices range around 300$. The frames are handmade frames from Italy.
This label has shiny colors and more dominant frames compared to most of the manufacturers on the list here.
Lafont is an independent eyewear company that also has spectacles for kids. They design is more guided towards the person who likes thinner and lighter frames.
Did you ever buy glasses and the optician used white gloves to hand you the frame? This is highly likely with the finest material Leisure society uses for their high-end eyewear. Most of the frames cost 1000$ upwards with some of the details listed below:
Material: 100% Pure Block Titanium
Ion-plated in 12k silver, 18k gold, or 24k gold
Titanium nose pads
Linda Farrow has fashion statements in their collection you will adore if you want the latest and greatest pieces of design.
Lindberg has very minimalist frames and a big customer base with people loving the thin frames. You have a lot of options with this company in regards of the customizations you could chose. You can buy them at authorized resellers.
Lunor is a company that focuses on really classic designs and great quality. This family-owned enterprise is available at authorized resellers. When you compare the details to other brands like how the parts of the hinges are aligned you will notice the great built quality right away.
Are you looking for lightweight frames? Markus T got you covered. The company located in Germany focuses on materials like titanium and a patented plastic called tmi.
This Japan company focuses on retro eyewear with spectacles as well as with sunglasses.
A label from Japan with a unique design language.
Matsuda is a label that focuses also at the premium market. They have a lot of frames with stellar details and the highest end of build quality. Personally I like the model 10610H the best.
Maui Jim
This is a brand based in Hawaii. Maui Jim is well known for their superior contrast with their polarized sunglasses. They are available worldwide. They are an independent company and are not owned by Luxottica. Back in 2009 Maui Jim decided it was the time to turn away from Luxottica and since then has grown immensely.
Max Pitton
Last time I checked I could only find Look books from 2016 and 2017 on their website. So maybe they are not available anymore.
Morel
Morel is a French eyewear manufacturer. The frames with a more mainstream design language are sold at optical stores.
This company is located in NYC. The premium brand also provides a concierge service. You can contact them and one of their expert opticians for a personal styling session and lens consultation will get you exactly what you want.
Do you ever thought every tint with sunglasses is practically the same. Also across different brands? Well Moscot provides you with custom made tints. The dyes are definitely a unique selling point.
MYKITA is an independent eyewear design and manufacturing company combining handcraft with new manufacturing technology. All frames are handmade at the MYKITA HAUS in Berlin. They have Nylon metal and 3D printed glasses.
The website from nackymade is really refreshing. It looks way less like other cooperate websites. It has a very personal touch to it. In fact if you go to the website you will find a lot of information about Nacky who runs the company and sells the hand crafted frames.
Here with this independent label you will find interesting clip on solutions I did not saw before.
They have a really interesting modular approach to their design. But not only do they have a modular design which I really like they also have a smart hinge built-in. The problem oftentimes is when you close the temples on your glasses to store them in case the temples have touched the lenses. This of course leads to damage on the lens surface. But Neon Berlin has a limit stop for the temples which reduces the range of motion of the temples. This is a great way to deal with an old problem.
This brand is located in NYC. They can be purchased through optical stores. Their design language is more oriented to subtle colors and less dominant frames.
Orgreen is a well known company in the eyewear industry. They have a lot of very light weight frames.
This label is located in Australia and focuses more on the lesser price intense part of the market.
Ovvo
This independent eyewear company uses some interesting technology. They use DLC which is lab-synthesized by decomposing hydrocarbon gases to stack individual atoms in carbon film that is thinner than paper, harder than diamond, and stronger than steel. This product will then applied to the frames of Ovvo.
By coating our high-performance Surgical Steel & Titanium alloy frames with DLC, they've discovered an entirely new realm of possibilities in strength, lightness, scratch-resistance, and durability.
Own days has all the common materials in their collection. One of which I found worth talking about a little is the memory metal with great elastic characteristics and extreme durability.
This company has natural materials but for a more affordable price. Oftentimes in their collection you will find frames made out of horn for about 250$.
What you will find here with this company is a very subtle design language and very harmonic colors.
This another brand based in Japan. Also high-end eyewear. The design language is more subtle but with a big focus on little details.
This US based eyewear company is inspired by the flat of the skate and surf scene in the states.
Reiz produces finest eyewear. The company focuses on subtle colors uses materials like wood too and pays a lot of attention on details. You can buy them the authorized resellers.
Reptile sun focuses on great quality sunglasses. You can buy them at local resellers and the prices range around 200$.
This brand also focuses more on the massive frames. Most mainstream brands do not have an emphasis on producing frames with thick temples. If you are looking for a frame with thick temples for a reasonable price for about 150$ go check them out.
Rigards has an unique design. They won the German design award for their their unconventional hand made frames. The designs used range from wood to horn. If you like something very exclusive you should definetly have a closer look at them.
Rolf is the Muse design awards winner of 2020. They have an incredible focus on details. They are really famous for their craftsmanship with wooden frames. But they also expanded their collection in the last few years and have grown a lot.
Rudy Project is a competitor too Oakley which is distributed by Luxottica. Rudy Project has very durable glasses with complete solutions for sporty people with or without prescription lenses.
SALT
Salt is designed in California and handcrafted in Japan.
Schnuchel
Schnuchel frames are manufacturers in Hamburg. They can produce a wide range of shapes in an incredible variety of colors. Due to the options they have you can get a customized fitting in regards of the type and size of the bridge of the glasses. This makes every frame form this independent eyewear company unique.
Serengeti
Serengeti eyewear is specialized in high end polarized sunglasses. Prices range from 200 up to 350$.
Shuron has decides of experience in producing handcrafted eyewear. They focus on classic design elements and provide timeless pieces of eyewear.
Silhouette
Silhouette is another brand not owned by Luxottica. They are well known for there minimalistic light weight glasses. They also switched their selling strategy a bit from producing frames only to complete glasses now.
Spektre provides spectacles as well as sunglasses. The glasses are thicker than most glasses made out of classic acetate in Italy.
Spyoptic is a label that not sells normal glasses and sunglasses but also goggles. They are marketed more as skater brand.
Thus label has focused their effort on great sunglasses for man and woman. The prices are usually found at around 300$.
Tavat Eyewear
This brand has unique dyes in their sunglasses. TAVAT's sunglass lenses are infused with a synthetic melanin to provide the ultimate in eye protection, improving clarity, enhancing contrast, without any color distortion.
This eyewear company has an interesting eyewear configurator on their website. This way ocular can order your coustomized eyewear.
Theo
Theo glasses are made with a fun design in mind. When you saw a few frames from Theo you will recognize them everywhere because of their great design language.
Tom Davies
Tom Davies is located in the UK and as multiple locations there were those frames are sold.
Topology Eyewear
When you place an order at Topology eyewear, your future eyewear begins its journey at the headquarters in San Francisco. Your personal measurements are precisely cut from the best Italian acetate. They also use surgical stainless steel. Afterward, the glasses get assembled with your custom lenses, before being finished with a polish—all by our team of eyewear production specialists. Check out their side you can customize your eyewear here as well.
Tres Noir
This independent manufacturer of eyewear has less expensive sunglasses ranging from 50$ up to 100$.
Vava eyewear focuses on dominant shapes. You will find very cool designs in their collection for optical and sunglasses.
Vinilyzed
This company uses old vinyl records and epicycles them to new glasses. Sounds nuts right? But this what this company does and people are loving this brand with the unique design.
Viu
Viu is a label more focused on the less intense price spectrum with glasses starting at 150$.
Veronika Wildgruber Eyewear first appeared in 2010. At first they only had four hand-made frames made in collaboration with the french lunetier Jacques Durand. Following their initial presentation at the Silmo show they won the Silmo d'Or special Jury price. This award winning design is very unique with long bowed structures.
Warby Parker also has a wide range of less price intense eyewear you could buy online or at their own stores.
This eyewear company also focuses on outdoor activities. They have great lenses in regards to protection against the sun but also when it comes to shock resistance. Due to the wrap-around style, they are very widely used for motorcycling.
This brand is also located in Japan and very subtle design elements in their shapes and colors.
They are also focused on sunglasses and goggles. One thing that is really intersting to me is the rail lock system with their goggles. With this changing lenses has never been easier with the dual sliding rail system that guides and slides lenses easily onto the frame while a magnetic closure locks your lens into place ensuring a simple and secure lens swap.
A lot of colors and shapes that are eye catching can be found in their collection.
Zenni Optical
Here you can find inexpensive eyewear form an independent label. They are available in the online Store.
So this is it. Here you have an extensive list of glasses brands not distributed by Luxottica. Personally, I think people asked me to write this post after they saw some documentaries about how successful Luxottica is in the eyewear industry. I hope you found the information you were looking for in this article. Some of the labels mentioned here are completely independent while others get distributed over a company that holds the license for a particular label.
I wish you a great day.