Although Prada and Ray Ban are distributed by the same company, there are differences in the choice of materials and design language. Here in this article, you will find more about the different offerings in Ray Ban and Prada glasses.
First of all, you have to look at the offers from Ray Ban, Prada and Prada sport. Ray Ban runs under only one label while Prada is divided into a slightly cheaper sporty line and the classic Prada line. You can recognize the different Prada labels on the glasses by a logo, which is backed with a red stripe on the sportier line and the conventional line at Prada has a silver lettering.
The materials differ in most Ray Ban to the Prada glasses. Ray Ban uses real glass lenses, while Prada uses plastic polycarbonate lenses. So when it comes to longevity in terms of the surface of the lenses, you will fare better with most Ray Ban.
The same goes for the coatings. You can get polarized Ray Ban sunglasses for about the price of regular Prada sunglasses. The polarization raises the contrast and provides a significant reduction in reflections and glare. The polarization you get Ray Ban in combination with an anti-reflection coating. This also again reduces the reflections on the back of the lenses.
There are also anti-reflective lenses at Prada, but for the same money, you usually get more at Ray Ban.
Comparing the Lens Quality of Ray Ban and Prada Sunglasses
When it comes to the comparison of Prada and Ray Ban lenses then you need to know that there are very many designs of lenses. If you compare the plastic lenses with plastic lenses and the coatings then the quality is similar.
However, if you compare Ray Ban lenses with Prada plastic lenses, you will notice a big difference in scratch resistance. The Ray Ban glass lenses scratch much less compared to the Prada plastic lenses.
In practice, this means that if you have worn the Ray Ban glass lenses for several years, they will probably look very good, even though you may not have taken good care of them. In contrast, the Prada lenses after two years are probably already worn and scratched even if you have been very careful with the sunglasses.
However, glass lenses are much heavier than plastic lenses if you are very sensitive to pressure on the nose it may make sense to choose sunglasses with plastic lenses.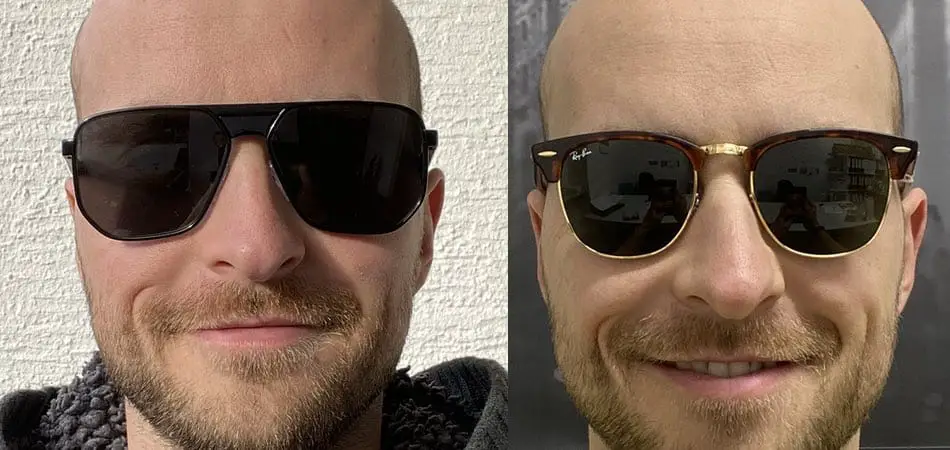 Some people even recognize a difference in the perceived clarity when they look through glass lenses compared to plastic lenses. But this is the minority of wearers of sunglasses.
However, most people notice a very clear difference when comparing the Prada lenses (no matter which configuration) with the Chromance lenses from Ray Ban. Here we have noticeably higher contrasts and more vivid color perception. If you want to learn more about the different Ray Ban lenses then I have an article for you here.
Comparing the Frames of Prada and Ray Ban Sunglasses
Pradasport often offers frames made of nylon or a rubber-like material. The rubber-like material produced quite a few complaints with us, which is why I can not recommend it. Just where the rubber-like material on the skin at some point coating or material defects have shown.
However, I had to make the same experiences with Ray Ban. The material nylon often feels cheaper that there is with especially Prada Sport and with classics like the Ray Ban new wayfarer but the material is very resistant to scratches or change by UV radiation.
Often cellulose acetate is perceived as higher quality. This plastic makes the glasses a little heavier but many customers find it more qualitative. Cellulose acetate can be found mainly in the normal Prada line as well as in classics like the Ray Ban Original Wayfarer.
If you want to know more about the Way Farer from Ray Ban I have an article for you here.
Options: Prada vs Ray Ban
While there are rather fewer options at Prada mostly (3-4 frame colors) you can really let off steam at Ray Ban. Exceptions like the Prada PR 67XS are of course also available in many colors.
I am an optician and if a customer has glasses that do not look like any other sunglasses I find that great. So you have at Ray Ban much more choice in the colors in terms of lenses and frame color. You can even order Ray Ban temples differently compared to the middle part of the sunglasses.
In addition, Ray Ban has its own lens program. So if you buy the Ray Ban glasses and you have a lens strength then you will lose the logo in the top of the sunglasses if a different lens manufacturer is chosen. Qualitatively, it makes no difference which lenses are chosen specifically, however, some people attach much importance to the logo in the corner of the lens.
If you want to learn more about the Ray Ban Authentic lenses with your prescription then I have an article for you here.
Summary
You get everything at Ray Ban that you get at Prada, and even a little more if you choose the options. However, which materials are chosen or which lenses you get depends a lot on the respective models at Prada and at Ray Ban. In the comparison of Prada to Ray Ban, I personally would rather go for Ray Ban. However, the Ray Ban brand doesn't have the prestige that Prada glasses have with many buyers.
My tip for you is that they take the sunglasses or glasses from Ray Ban and Prada directly in hand. When it comes to sunglasses look through the different variants and ask your optician also whether the variant you buy has an anti-reflection coating or polarization. With experience, it will be much easier for you to make the decision between Ray Ban and Prada.