Do you remember putting on a pair of glasses and disliking the way that it looks on you because it makes you look older? Just know, you are not alone. Many people refuse to wear eyeglasses and miss the opportunity to have a pair that not only looks nice but also makes you look younger. Other people wear glasses that do not match their face's shape, making their eyes look like they are sagging. 
There are a variety of eyeglasses for sale that claim that they make you look younger. You should consider the many features that different styles of glasses available before buying a pair of frames or two. If you want to know the truth about which styles help you look younger, continue reading to find out.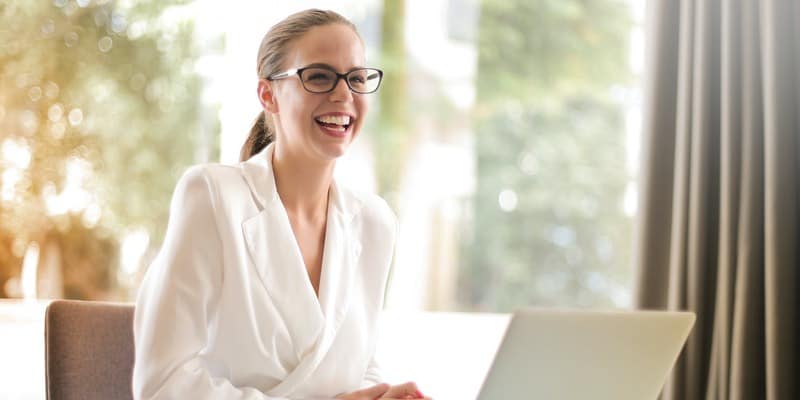 Can Any Pair Of Glasses Fit My Face?
When you look at a pair of glasses, you might instantly find them attractive. Once you try the glasses on, though, you might not think the same anymore. The shape of your face can be a good guide when selecting styles of glasses. 
Just remember, choosing a pair of glasses that make you look younger does not have to be complicated. It is important to keep in mind that every style highlights certain parts of the face. It would be best if you always consider the following:
Length of the face: The size of your face will dictate the size of the lens that you will be able to wear.
The shape of the eyes: The location, size, and shape of your eyes will fit a particular frame style.
The shape of the face: Everyone's face varies, and each frame of glasses will compliment certain face shapes more than others. 
The shape of the nose: The shape of your nose consists of both your nose's width and the shape of the bridge of your nose. 
This information can facilitate your search and will help you find a frame that can be flattering for your facial features. Some frames will show off particular features on your face that, instead of hiding them, you will be exposing more than you will want. The goal is always to enhance the parts of your face that you feel are your best attributes. 
Consider Your Skin Tone
To better understand which lens shape to choose, you will need to consider your skin tone. It is as important to know what tones and shades will compliment your frames before purchasing glasses. You will be at risk if buying a frame color that blends with your skin instead of enhancing your desired features. 
If you are not sure of your skin tone, look at the information listed below to help you better understand.
Skin tones are categorized into three different tones:
Cool: Your skin has pink and blue undertones.  
Warm: Your skin has peach, yellow, bronze, or golden undertones.
Neutral: Your skin has a combination of pink and gold undertones. 
There are ways to know if your skin tone is compatible with the frames that you selected. If you have cool skin tones, you will need to avoid colors that can wash you out. Try to look for colors that are brighter to prevent you from looking pale. 
The most recommended colors for cool skin tones to use are:
Black
Blue
Gray
Pink
Silver
White
If you have warm skin tones, you will need to avoid these specific frame colors:
The most recommended colors for warm skin tones would be lighter brown shades such as:
Beige
Brown
Gold 
Honey
Olive green
Similar colors will enhance your warm skin tones and facial features even more. The intent is to complement your skin with similar colors of your complexion without dimming your face. 
If you have a neutral skin tone, you have a broader selection of colors. This means that you can select any color you like because everything will complement your neutral skin tone. You can even go for a brighter color if you want to experiment to find something that you like. 
Finding The Right Pair 
There is nothing wrong with wanting to look younger. It is something that many people have in common. The right pair of glasses will not only make you look younger, but it will make you feel confident. 
Eyeglasses are a definition of your personality and style. It is a visualization of your creativity and lifestyle. If you are a person that likes to be stylish, eyewear will help you complete the look.
You can wear glasses with prescription lenses or even wear them just because you like how they look on you. In this case, you will have to make sure that the lens is the right fit for the frame. Some prescription lenses may be too thick to fit in the thinner frames.
Finding glasses that can fit your face will also depend on the shape of your face. 
When you look for a specific frame, you must remember the objective that you want to accomplish. In this case, one of the objectives will be to search for glasses that make you look younger. 
If you need inspiration and guidance to facilitate the search, there are five steps that you can follow:
Define the size of your face.
Identify the shape of your face.
Figure out the features that you want to enhance or hide.
Know your preferred style of glasses. 
Have the right lens prescription if needed.
Regardless of the frame that you prefer to buy, it is important to make sure that you are happy with your selection. There is nothing wrong with wanting something different as long as you are happy with how it looks on you. You can be as creative as you wish because you are the only one that knows yourself the best.
Frames To Avoid
The shape of your face is a big factor in choosing the right pair of eyeglasses. You should always purchase a frame that creates a contrasting look on your face. You want to avoid accentuating the shape of frames instead of the shape of your face because both should complement each other. 
Before giving you a detailed list of the frames that look timeless, it is wise to let you know what not to select when looking to buy a pair of glasses. There are general styles of glasses that automatically do nothing to give you a younger appearance. 
If you want to look younger, it is suggested to avoid certain frames considering your face's shape and color because some styles will fit better than others. Some frames will make your eyes look tired and can draw the eyes downward. Other frames will make your cheekbones look weary and will sag your face. 
Diamond Face 
Having a diamond face means that you have a narrow forehead and jawline. This face shape tends to have high and enhanced cheekbones. 
If you want to prevent drawing attention to your narrow features, it is important to avoid the following frames:
Boxy frames: It makes a face look smaller than it is 
Narrow frames: It shrinks the face even more 
These two frames will enhance the imperfections in the areas that are prone to aging faster by pushing the eyes together instead of lifting them.
Heart-Shaped Face 
A heart-shaped face means that you have a smaller chin and a larger forehead. 
If you choose the wrong pair of glasses, you have a higher chance of exposing a possible receding hairline. 
To prevent exposing unwanted features, you can avoid using these frames: 
Decorative frames: It emphasizes the larger forehead. 
Colorful frames: Bright colors will draw others' eyes to the higher parts of your face.
Oval shaped frames: This shape does not complement a heart-shaped face. 
Oblong Face
A way to describe an oblong face in its simplest form is that the length of the face is double the size of the face's width. The difference is that the jaw and chin are somewhat narrower than the forehead and the cheekbones are in a higher position. 
The shape of your face allows you to explore a larger selection of eyewear. The balance between your forehead, cheeks, and chin can be complementary to almost any style. 
It is recommended to avoid using the following glasses to prevent taking away the symmetry of the face:
Oversized glasses: The shape of this frame can take over your face by covering the lower part of your face.  
Round glasses: This frame can make your face look rounder.
Oval Face 
Having an oval face means that you have more alternatives when selecting a frame because your proportions are balanced. 
Many styles are going to fit an oval face, but there is one frame that you should avoid. An oversized frame will age you because it will make others look at the sections of your face that the lens is touching. Unwanted parts of your face will be emphasized, creating an eyesore to others.
Round Face 
If you are a person that has a round face, it is necessary to avoid frames that will make your face look rounder. These frames indicated can create the wrong illusion:  
These frames do not enhance the complexion and will age you dramatically. 
Square Face
If you have a square face, it means that you have a broad forehead and jaw of the same length. The goal is to avoid frames that make your face look boxy. It is easy to find a style that you like, but you have to consider that not all styles will complement your features. 
If you want to look younger, you should avoid glasses that don't do anything to correct features that you want to conceal, such as:
Angular frames: It can make your face look sharper. 
Boxy frames: It can make your face outline look overly squared. 
It is suggested that you avoid drawing attention to the angular features of your face, decreasing the possibility that your face will look bulky. Instead, you have to find frames that have rounded edges to avoid drawing focus on the face's sharp angles. 
Once you can identify the facial features that you desire to enhance, selecting the right pair of glasses will be simple to come across. 
The most important thing to do is to figure out what your style is. Choose a pair of glasses that displays your personality. You always want to consider that your frames match your style. 
Cat Eye Glasses
Why not take a few years off by just wearing a pair of glasses that best fits you and your personality. The cat-eye glasses are an eye-catcher because of their unique style. This pair of glasses come in a variety of colors and designs, making it easy for someone to find the right fit. 
The edges have pointy outer corners that give you an instant facelift because it draws the attention upward.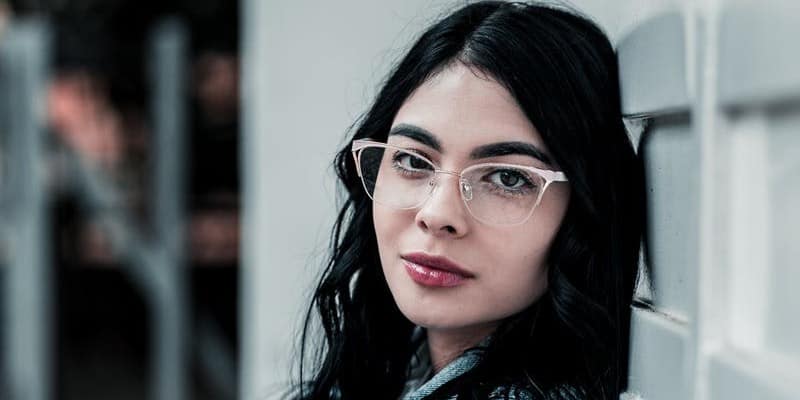 Cat eye glasses come in many colors that can help enhance the great details of your face. Many styles display the cat eye in different ways:
Colorful edges
Sharp edges
Subtle design
Various sizes
This particular style of glasses can make your face look completely different. The unique edges illuminate the face by highlighting the cheekbones, giving the face the illusion of a revamp without having to get any surgical procedures. 
It's one of the most economical routes to take when you need to use prescription glasses. 
When looking into a cat-eye frame, you have to make sure that it's the right fit for your face. The right fit must be considered based on the shape of your face. In this case, the following face shapes would work best with this type of frame.
Oblong face: A frame that has an upswept bowline will elongate the temples of your face. 
Oval Face: A frame that has a rounder lower silhouette will complement the shape of the face.
Round face: A frame that has angular lines would be more flattering.
Square-cut face: A frame that has a wing-shaped angle can help proportion the broad jawline. 
Diamond face: A frame that has an enhanced shape at the top corner can soften the cheekbones.  
It is important to consider what you want to enhance or hide before going for the cat-eye look. 
Another component that will help you select glasses that will fit you the best is by making sure that it complements your skin tone. Whether you have warm or cool tones, will only help you select the color of the frame, not the style of the frame. 
Rimless Glasses
A rimless pair of glasses is ideal for the ones that like to display a minimalist look. You will not have to worry about having a frame that will go out of style because of its simple lines and design. You will be able to wear almost anything without feeling like you have to match your glasses with your outfit. 
If you are the type of person that likes one pair to be your go-to pair for any occasion, then this is the pair to get. A rimless pair of glasses are suitable for any occasion because of their discrete design, giving you a modern look.  
Usually, this style is lightweight, making it comfortable to wear. It will also avoid pushing your face down and will give you a more natural appearance.
Consider the following suggestions of the face shapes that would work best for a rimless frame:
Diamond shape face: This frame will help highlight your face's best features and give the illusion of a narrow forehead. 
Heart shape face: This frame softens your angular features by taking away the focus on specific parts of your face that you don't want others to see.  
Any rimless pair of glasses will compliment any skin tone. Its refined look gives warm and cool tone faces a clean and simple look. 
Semi-Rimless Glasses
When you go out to select the ideal pair of glasses, it can be a frustrating task. You might even think that what seemed to be an adventure turned into a nightmare. Shopping for glasses does not have to be your nightmare. 

If you want to go for an intellectual look, you can achieve this look with a semi-rimless frame. Only the top of the glasses is framed, which puts less weight on the bridge of the nose. The focus is then placed to the top of the eyes, making the wrinkled areas not be the focal point. 
If you have one of these listed face shapes, this style of glasses will favor you the best:
Oblong Face: The width of the top of a semi-rimless frame gives the impression of a wider cheekbone giving you a more oval face shape. 
Oval face: This style will fit an oval face only if you find a frame with an angular design. The angular lines will extend the eyes, creating a lift on this section of the face. 
When you are in doubt, choosing a semi-rimless frame can ease all the stress that you are having. This pair of glasses make anyone look impressive without having to make an enhanced statement. Bring the intellectual part of your personality without saying your age. It will keep others wondering.
Thick Rimmed Glasses
Using a bold frame when looking for glasses is a must-have if you want to stand out from the crowd. Bold black frames are considered to give a modern touch to any occasion. It can be a great fit for anyone who is looking to have a younger appearance and a touch of complexity.
Thicker glasses are a translation of a particular personality. The prominent look of these glasses speaks to the spunk of a youthful demeanor. The bold look is for someone that is not afraid to look interesting and daring. 
Thick rimmed glasses come in different shapes and forms. Some of the shapes that you will be able to find are:
Octagon-shaped
Round
Semi-round
The most ideal face shape for a bold black frame is:
Square face: A rimmed frame can add length because the frame normally is placed on the jawline.
If you have cool skin tones, a bold black look will favor your skin tone the best.    
Oversized Glasses
If you want to hide aging signs from your face, try using oversized glasses. This style gives you a trendy look allowing others to place their focus in your eyes. The size of the lens covers most of the under-eye area and, at the same time, makes a great fashion statement.
There are many options when looking for an oversized pair of glasses that would best fit your needs and style. If you want to go for an oversized frame, there are many shapes to choose from:
Diamond frames
Square frames
Round Frames
Wayfarer frames 
An oversized pair of glasses has a larger lens and frame. Oversized glasses are normally worn like regular glasses or sunglasses. Usually, an oversized frame is used to look more fashionable but should be sized for your face properly because the frame might fall off your face when you make any drastic movements. 
If you decide to go for this style of frame, you should make sure that the style fits your face shape. The listed shapes are ideal for, but not limited to someone wanting to try something new: 
Oblong face: An oversized frame draws the attention away from the imperfections of your mouth and chin area. 
Oval face: A frame that has an oversized and wide style will enhance your high cheekbones. 
Round face:  A proportioned oversized frame will help give you the illusion of an eyebrow lift, creating a youthful appearance and a great fashion statement.
This style of eyewear makes a statement without exposing too much. Oversized glasses are a must-have in your collection. You will achieve a youthful look without even trying. 
It could be intriguing to have people guessing your age. Your frames are a definition of who you are. You should always aim to have a pair of glasses to works for you. 
A clear frame is designed to complement your look because of its simplicity. You won't feel the need to keep up with the new trends. Its clean silhouette creates a fresh and timeless look that will enhance your eyes instantly. 
The frame's clear material creates a path towards the center of your eyes, making it easier for anyone to hide any aging lines around the eyes. 
A clear frame compliments any skin tone because of its neutral color. Some features that stand out when choosing these frames are:
It can brighten your skin tone.
It allows you to be fashionable. 
It helps you shave years off. 
Since these glasses are effortless, you can experiment with a variety of styles. A clear frame fits all face shapes because it compliments many complexions. 
Round Frame Glasses
You might think that this frame is going to make you look older. The truth is that the new designs have added character to the people that choose to wear them. This style is the most used by the mature crowd because of its familiar shape. 
With aging, you will realize that your face will start changing shape. Here are some of the things that are instantly noticed that can alter your appearance:
You will notice sharper facial features. 
You will notice a more pointed face.
A round frame will instantly flatter these features by balancing the symmetry of the face and the round glasses. This popular shape will not go unnoticed regardless of your age.
You can personalize this style by using different colors or even jewelry on the frame. Making it your own is a part of showing your style and personality. 
Round glasses have styles that give you a different appearance. When you look into a round frame style, you will be able to select from a variety of styles and colors: 
Black horn-rimmed
Perfectly round
Full rim
Depending on the look that you intend to have, you will be able to select any of the frame styles listed. You will just have to keep in mind the recommended face shape to achieve a youthful look better. 
Diamond Face: A round frame can evenly balance the strong face definition that a diamond face has. It encourages a proportional face and gives an illusion of raised cheekbones.  
Square face: Due to the even proportions of a square face, a round frame will highlight the jawline creating a more defined look. 
Triangle face: A round frame will help compensate for the jawline's high definition by softening the strong features on the face while still enhancing them to prevent a droopy look. 
Final Thoughts
There are countless pairs of glasses that can help express your style and personality and still allow you to achieve a younger look. The main goal is to ensure that the pair of glasses fits according to the shape of your face and skin tone.
At the end of your fitting session, all that matters is that you like what you are wearing and can still have that timeless look that you desire.